Nili wrote:
Karin wrote:
Princess reminds me of some of my sister's cats. I believe she is a tuxedo siamese?
I honestly had no idea there was a kind of reverse siamese, I just googled it..and yes... yes she is. Explains her ''googly'' eyes she does at my husband as a siamese I had when I was younger used to have those great big expressive charming googly eyes. Of course, upon further research they're not related at all.. but still those eyes! Cannot deny them!:)
I was thinking another word for her which would be penguin siamese, which sounds about right, too, but my sister taught me about the tuxedo siamese. I am tempted to show a couple pics of them. My sister has a mom and her grown-up son. The mom was not used to me at first for a while, but after playing her toy with her once, she instantly loved me. The mom is very playful and usually wins while playing with her own kid. It's her kid that is more shy.
This is the mom.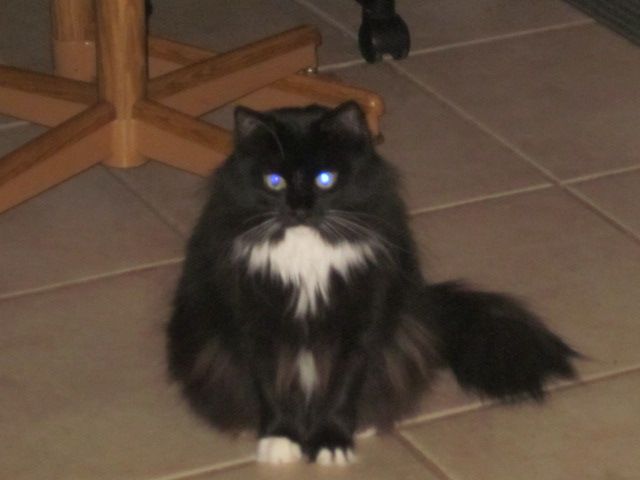 ...and here's her kid.
The difference between both, although you can't see the kid's paws, one of the mom's front paws looks more like a glove than a mitten. Her left paw. Size between the two is a huge difference, too.
Here's a small story, the mom was previously owned by someone that obviously didn't care for cats. Why they wanted a cat to begin with, I dunno. My sister told me they made her wear a collar, which was so tight on her neck she lost fur on her neck. Then, one day, the mom and her kittens were completely forgotten by that family. The mom did have more than one kitten, but the kid in the second picture is the only one that looks like her, which is why my sister kept him and had the others be adopted. My sister has the good heart in feeding stray cats (some of which were owned before) outside her front door and whenever they have grown towards humans again and she can vaccinate them if they are not already ill, she gives them up for adoption. This was how the mom and her kittens were found. My sister called the other family that she found their cats (she found out their info through the collar), which they ended up going "What cats? I don't own no cats." Since then, the two have had a new family and a new life, as well as the other kittens.