Nachtwulf wrote:
Actually, from what I understand, only Tame Beast bumps the pet up to your level.

If you have a pet in the stables and it's behind you, when you pull it out it will revert to 3 levels behind (or less if it's only one or two) and you're still back to leveling them in dungeons. XD

But at least it goes quick! Mostly this is, I think, to placate raiders who find a new pet at 85 and their guild whines because they bring them into raids underleveled.
I seriously doubt that. How ridiculous would it be for me to go all over Azeroth and retame every single non-rare pet in my stables, just because I don't have the time to level my pets? I'm sorry, but this would be a ridiculous system. I for one do not want to abandon and retame 20+ pets on patch day. What's more, this will hardly be a one-time deal. Once someone hits the level cap, guess what they get to do? Yep, retame up to 24 pets that had the misfortune of not being the active pet when the hunter reached 85.
_________________
AKA Nazthandol, in <Petopians> (US)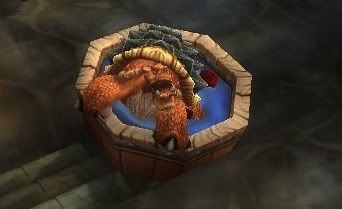 Cute doesn't need an explanation.
_____

Avatar by LupisDarkmoon, and image caption by Kurasu. Thanks!