Vephriel wrote:
Sukurachi wrote:
Today again I logged on and there were only 2 quests.
I tend to do all of the WQs like as soon as they're up so often there's a very long 'cooldown' period before the next round shows up, and maybe only like 2 more will pop up during the day for me after I've completed them, but I think it must be around 6 or so in a full day?? I just got home from work and haven't touched them since yesterday evening, and there are 5 up for me right now which I'm going to do, and then I expect I might see like 1 or 2 more at most tonight.
I'm also going to run around and kill all the rares that I see up, and if I encounter any treasure chests, then it's a nice bonus. The rares /do/ add up. Even if it's not much, I find usually 10-15 of them will give me enough for another supply turn-in so I usually try to get at least one 'extra' turn in through that, even if it's not all at once, I just periodically kill rares throughout the day to make that 100 mark.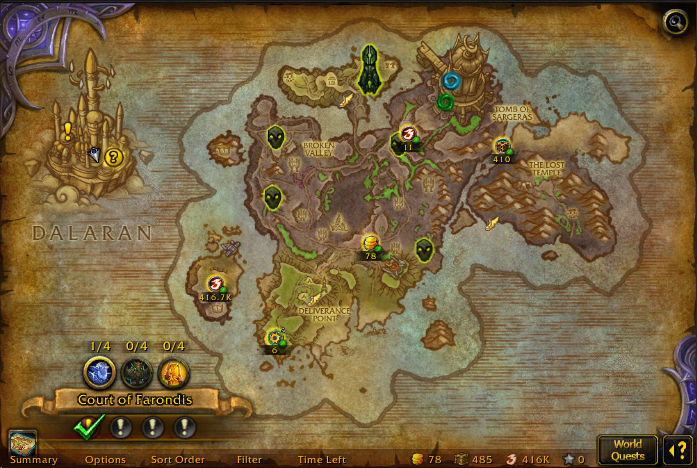 Just to add to this, when I farmed resources, I also ended up sort of "memorizing" which rare happened to spawn where. Sometimes I would find that when I was in Dalaran I'd see 6 or so "rare skulls" on my map to kill in Broken Shore, but when I got there, the skulls were gone. But if I ran to the location (skull or no skull), sometimes the rare would be up. Sometimes it would show up with the gold elite dragon portrait not the silver rare dragon one. When I killed it, it would still drop a few resources.
TL;DR even if you see a rare that isn't showing up on the map, if you haven't killed it that day its still worth the time for the drops!
The rares do definitely add up. Whenever I got home from work I would basically use Emerald Winds, Water Walking from Water Strider pet, goblin gliders... to get around the island pretty fast collecting chests and rares. I would maybe only see a handful of WQ in a day (maybe 1-2 up at a time, several hours apart). I definitely have not seen 4+ up, with the exception of actual "patch day" when everything was up (so even something like Veph's screenshot would be rare to me, unless I missed a day farming).
The only other thing I would recommend is go for the "rep" missions on your order hall board. If you can, definitely go for 200% missions (if you can spare the champions and resources). Getting the 200% actually helped a lot, even if the mission wasn't for Legionfall Insignias. All rep token missions (like Dreamweavers) have a 200% bonus that's the "Tribute of the Isles" (i believe that's the name). The item can open up into any rep token, and it can open into Legionfall Insignias (I got a few this way). So I made sure my top priority missions were the Legionfall Resources first (since they rarely showed up), then Legionfall Insignias, and finally "any legion rep" that I could get 200% Tribute on.