I'd like to request a sig, if you are ok with that.
I'd like to have 6 pets in it,
1. On the far left I'd like Karoma, in his howling pose if possible.
2. On the far right I'd like a Diseased wolf, also howling if possible.
3. Next to Karoma, I'd like King Krush to be standing looking fierce
4. Next to the Diseased wolf, I'd like Rak'Shiri (Aqua colored sabercat) to be laying down, very calm.
5/6. In front of me, I'd like a purple Shale Spider and Deth'tilac. It doesn't matter which sides they're on.
I'd like
me
to be in
This armor
without the helmet. And to be wearing an Ironforge Tabard, while wielding
this rifle
aiming down sights over my 2 spiders.
If possible, I'd like the pets to curve back, so that the wolves are on my line, and the spiders are in front of me.
For the writing, "A Hunter's pack is loyal to the end."
As for the Background, I want it to be Hyjal or somewhere that seems fitting/similar.
If any of this is not possible, feel free to tell me, I'll make revisions.
_________________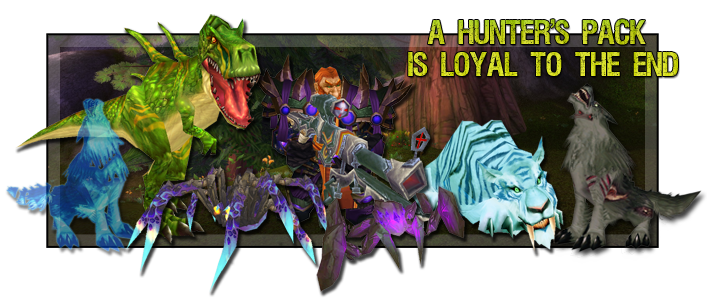 Sig made by the Wonderful Serenith!
"You cannot judge me, I am Justice itself! We were meant for more than this, to protect the innocent. But, if our precious laws bind you all to inaction, then I will no longer stand as your brother." - Tyrael