Oh wow, these are absolutely gorgeous o.o You really have talent here.
Would you be able to fit in one more request? I can see you've got quite a few of them already, so no rush at all.
I'd like it to feature my main,
Jettatura
. I'd like her to be wearing the chest, leggings and shoulders from the
Valorous Cryptstalker's Battlegear
, and then some simple black boots and gloves - I have no idea where I would go about looking for those as I don't have WoW model viewer D: If you need to you can just use the boots that she's wearing right now and no gloves.
As for the background. I don't know if you can do specific backgrounds, as I have an extremely specific place that I'd like to request. My favorite spot in all of WoW is in the middle of Lake Kel'Theril, next to the stump and the night-elf designed lantern. Here are a few screenshots of the location:
Attachment:
File comment: And here it is on the map of Winterspring.
WoWScrnShot_021511_212606.jpg [252.14 KiB]
Not downloaded yet
Attachment:
File comment: What the spot looks like ingame.
WoWScrnShot_021511_212641.jpg [149.76 KiB]
Not downloaded yet
If you can't do specific locations, then just a generic Winterspring/snowy background would be fine. :3
As for pets. I'd like her to be with her spirit beast
Eskendal
, and her trusty saber cat
Stardust.
I'd like to see her sitting down, Stardust asleep next to her, with Eskendal on her other side (does he have a sitting pose? I'd like it to seem like he's watching over/protecting the two of them.)
Sorry it's so specific /flail I've had this image in my head for awhile, though, and would love you forever if you brought it to life.
_________________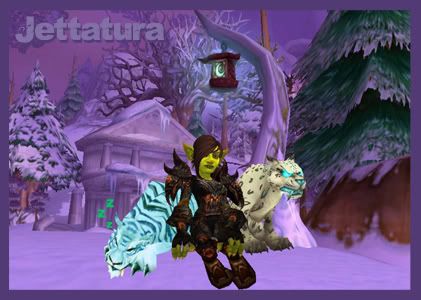 But you can skyrocket away from me,
and never come back if you find another galaxy
far from here with more room to fly.
Just leave me your stardust to remember you by.

Avatar by Moonlost, sig by Ashaine.