Ok... I don't think I've ever posted here (at least not in many years), so I'm going to highlight the mounts I am most excited to get - or was most excited to get. A few I have had since MoP (when I started playing).
I earned this kitty healing 3's in MoP. For years my Druid was the only one to use it, so I'm pretty stoked to use it on my alts now that it's account bound. I love this thing.
Edit:
I almost forgot - now that these mounts are account wide, I also have the Horde equivalent! I don't have a screenshot atm but it's this guy: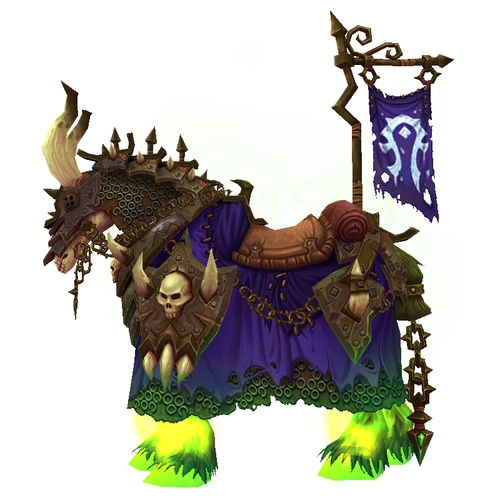 Forsaken hype! (I have a few Forsaken to level...)
So, funny story. When my friend got me to play WoW, what finally won me over was Cloud Serpents. She was like "you can RIDE these in the upcoming expansion" (paraphrased since she was still explaining how the game worked but yeah). Fast forward to patch 5.2, and I'm on Skype with my arena partner (irl friend). I had been farming Sha for quite a while, and since weekly reset had just happened, I went to kill him (it?) for the week. I said to my friend, "One minute, I just need to get my weekly gold from Sha"... then it dropped.
I'm really glad withered training is over...
I haven't pvp'd much this expac so I'm working on the higher prestige level dudes but... it's a unicorn <3
I really want to tame this thing tho...
The only garrison invasion mount that would drop for me.
Another bout of world boss luck. This dude dropped for me this expac, actually. In fact, I got all the stone direhorns this expac/prepatch (sans the Jade one which I got in MoP). My troll shaman uses this one a lot, along with the rep direhorn for Horde. It's always nice not just getting a rare mount for the +1 to the mount total but also because you
like using it
. I love this one (and the Sha one, actually, since I die for cloud serpents).
I think that's enough for now... I have a lot more that I love (even though they aren't rare or hard to get) so I might include them in another post down the road.