Apparently the question of the day is which bird to use, who knew?
Storytime:
Back when I went on my initial stables-
clogging
filling spree, I grabbed an eyepopping purple-and-orange kaliri out of Sethekk Halls. This hunter's theme is approximately "purple", I'd never had an excuse for such a gaudy owl before, etc etc. Well, I finished leveling it to 85, and I pulled it out a couple of times when the impossible happened and we'd reach Throngus without anyone else to disarm, but for the most part I buried it deep in my stables and never used it.
Alright, so we reach 4.0.6, and suddenly Hell-Hoot is... purplish. To be charitable. I'd call that color "Winterspring" but I wanted an excuse to tame something new and the riotous colors of my kaliri was just not doing it for me. Off to Winterspring, tame, start to level it... get bored and wander off for a bit. Come back to my hunter a few weeks later, and looking at it again I finally stumble across the beginnings of a story for it: it's the old Sethekk kaliri I "rescued," only being in a different habitat has changed its color (I use that skin-change excuse so often I'm singlehandedly turning it into a trope, I swear) and I finally realize that it's nuts. Bonkers. Out of its gourd. CrrrraaAAAAzy. It's the eyes, I tell ya. Look at it! That is not the look of a sane creature.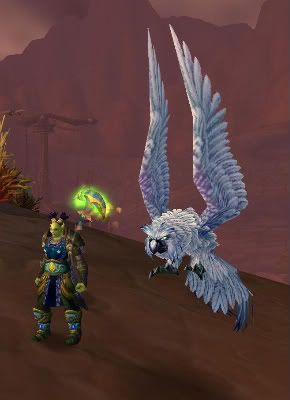 I should probably mention that it pains me to use a pet without even a little story. I can do it, but it sucks a large element of fun out of it. But give my pet a story, even just a simple one, and bam! So finally getting a bit of story for my owl made me quite happy.
And then last night I followed my friends into heroic Deadmines for some achievement fun. Well, as we approached the ship room, I idly started babbling about/explaining the rarespawn parrots for the benefit of my groupmates (who are completely hunter-pet challenged and wouldn't know a unique skin if it ran up and bit them). Well, we're pulling through the parrots, and we get within seeing distance of the last flying parrot and oh look, it's the Brilliant Macaw. Miniwing. The rarespawn I spent the most time explaining to my groupmates. Now, my friends are jerks sometimes, but depriving one of their favorite hunters of a pet she just spent 5 minutes babbling about and is now bouncing up in down in her seat begging for strikes them either as too cruel or very, very unwise-- so they kill the last boring parrot, back up, and give me a thumbs up. I quickly abandoned my Hell-Hoot (why I brought a Disarm pet to a Disarm-less dungeon, I couldn't tell you) and a few moments later become the disbelieving new owner of a Maxiwing.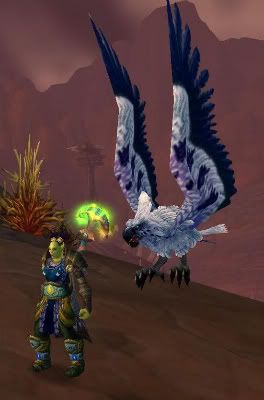 So now I have two Birds of Prey, when I can barely find an excuse to keep one. The owl has more of a story so far, and is even close to having a name-- although, having written out this post, I'm starting to feel around for something for the parrot. Speaking of, the ridiculous crest and dorky look of the parrot model isn't my favorite, although I like the colors better than the owl. I can always retame Hell-Hoot if I change my mind, which I'm quite fond of-- common but rarely-seen skins are a love of mine. But I've never seen a single person brag about having a Maxiwing, let alone seen one in-game, so I can forgive it for being a rare.
*inhales*
If anyone's bothered reading this far...

Opinions on which bird to keep?