As of now these will no longer be tameable.
I'm keeping this thread here for looking back on what we did have.

Can someone find out where he got it from?


http://www.wowhead.com/npc=9498/gorishi-grub#comments
EDIT:
For any hunters still looking for this pet:
These are spawned off of a rare named Clutchmother Zavas (http://www.wowhead.com/npc=6582#comments) found underground, directly south in Ungoro Crater.
Her spawn time is unknown but the hive is a questing location, so you may have to camp.
Tips:
1) Take your bow off to avoid one-shotting it if you auto-attack her on accident.
2) You do NOT need to attack her to make the grubs spawn. Just run up for aggro and wait as she chew you.
3) Eggs spawn after a few seconds that last for 6~ish seconds before hatching the grub you want. Do not kill the eggs - there will be plenty.
4) Target the bugger when it hatches and hit tame!
* If you are a courteous hunter, put your new worm on passive as soon as you can, dismiss it, run away, and FD. No reason to kill this mob since other hunters may want in too!

(oh durr, I'll grab one in Bestial Wrath too.)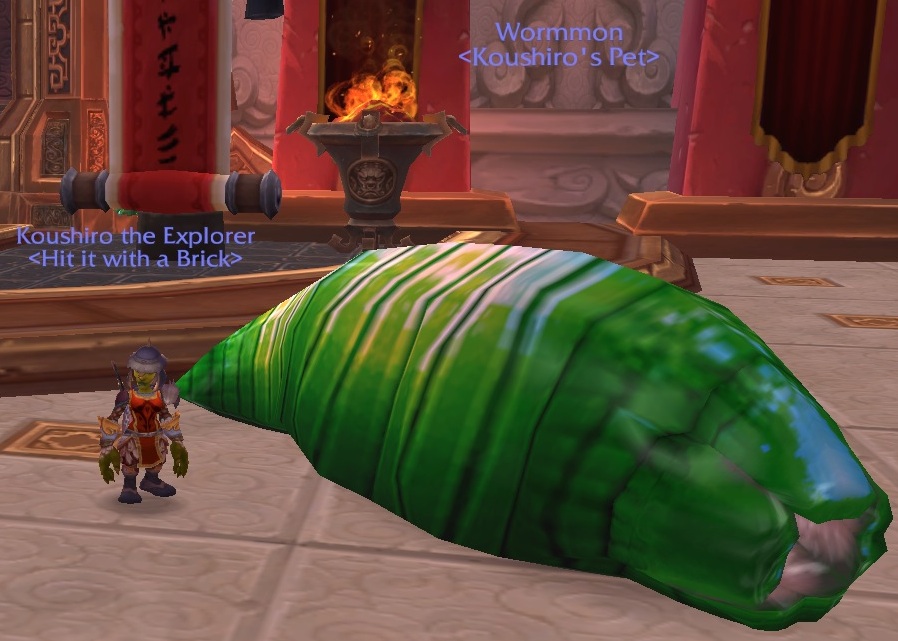 Needless to say the guild's general reaction upon seeing it has been "WHAT" and " AGH IT'S TERRIFYING." Hee.
Poor Kou is still leveling and 88; I was planning to try and get that Amber Parasite on her, because orange. Having Wormmon instead is also great though.