Hey guys! I know this isn't the exact thread this needs to go in, but it was brought up in another thread somewhere and I can't remember where. Since this thread was about Karkin (And likely also about Skarr) I figured I can toss it in here and have some people on the PTR look at it!
Ok, so, the original issue brought up was that Karkin (And likely Skarr) 'scale' to the player's level, but was ultimately being one shot by the person trying to tame it. What I found is that it really looks like it's a display error on his level.
This is his healthpool at '112'.

For comparison, here is a Molten Giant Elite wandering around the Molten Front displaying lvl90.

I also want to point out that I have a No Damage macro that's needed for a few other tames, but ultimately, I didn't even have to interrupt him as my tame bar finished just before his interrupt ability.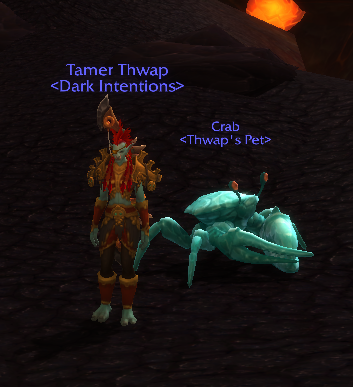 Not sure why his level is displaying higher, when he's not truly scaling up past likely 85/90. I figured I'd bring this up for a footnote or some such and maybe see if something might be a bit different on the PTR about that!