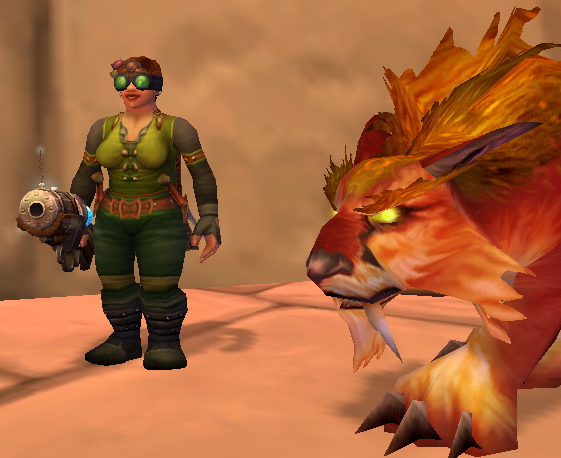 This is Rassaa. The massive furball is Tinder.
Rassaa has a problem. She has no history, personality, or reason for being.
Her problem is my problem.
This is what I know about her:
-Tinder is her favorite pet. She has other pets, of course, but none are equal to Tinder.
-Tinder is a beat up, rather old creature.
-Her last name is Firehammer, and she came from the Firehammer clan. All I know about the Firehammer clan is that it split up in the War of Three Hammers into Dark Iron, Wildhammer and Bronzebeard sections. Each section hates the others. Rassaa, by extension, dislikes Wildhammers and Dark Irons.
-She's an engineer, and she's good at it. Gnomish, not Goblin.
That is all I know about Rassaa. x.x I've tried and tried to think up some sort of real storyline for her, and I always fail. I can't even think up a personality.
Does anyone have any brilliant ideas? Brainstorm! Throw ideas at me, maybe some will spark something!
Also, I apologize for my terrible butchering of the english language. It's late.