Warp Stalkers are probably my favorite pet family on shared #1 spot with Devilsaurs. I love dragons and all sorts of reptiles in general. Warp stalkers? Warp stalkers are like all of the best things about all the reptiles in one package with a dragonic twist!
Come on, look at those horns... LOOK AT THEM!
I fondly remember when I was looking through pre-BC stuff that had been released or datamined and amongst them were some concept art of warp stalkers. Back then I thought to myself that it looks very dragonic and hoping for it to be tameable is a useless dream. Sure enough though, when I went to explore around Outland as soon as I had installed the expansion, there it was between the trees of Terokkar; a warp stalker with striking blue eyes and radiant white scales. Would you look at that? It's tagged a beast! Hit *beast lore* and feel your heart choke a little bit from excitement. As I had mounted up for exploration as soon as I could I was too low level to tame yet, but boy did the white reptile motivate me to do so as soon as possible!
Burning Crusade in general was really good to me because it also gave us devilsaurs whom I also remember yearning after every time I visited Un'Goro Crater.
Due to this nostalgia I always clung onto the white skin of the warp stalker. I didn't even glance at the other ones until recently when I wanted a warp stalker for my goblin hunter. Happens that I had recently read on Vephriel's pet blog about her endeavors with Gezzarak which made me curious. I am not a big fan of purple, but the skin on Gezz seemed like an okay shade which wasn't too garish and the green stripes + eyes seemed to fit well with my hunter. I had previously tried the 'green' skin for my goblin but I just couldn't bring myself to like that odd "dirty" sort of yellowish shade next to my very mossy green goblin. It just seemed ajar. After I hit appropriate level and did all the necessary quests and tamed Gezzarak... man, did I fall in love! The skin on Gezzarak is very unique because of the dark, sort of solid, shade and it compliments the warp stalker shape very well.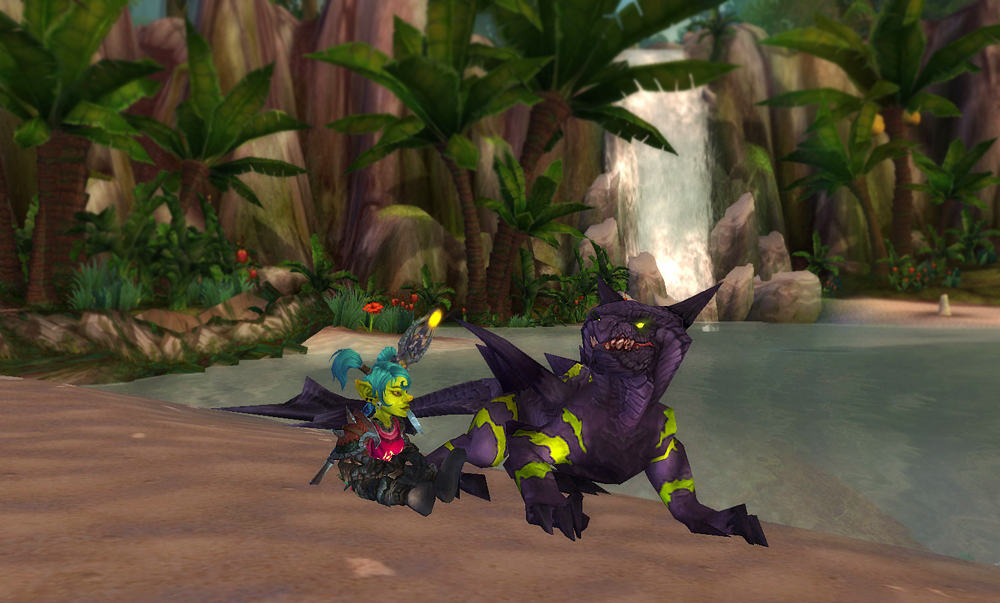 When I want a tenacity pet for my hunters I usually
immediately
go for warp stalkers. Each of my hunters get one eventually when I reach a proper level to tame the colour I want. Sometimes two, like on my main hunter who has the white one and the black one now that I fell in such deep love with the skin but don't have the heart to abandon the white one which I share so many good memories with.

If we had more stable slots... I'm sure I would fill one or two with another warp stalker! Here's to hoping for new warpies in Mists of Pandaria.