Yeee! I love hearing about peoples tallstriders. <3 They always seem to be a pet that brings a smile to faces, including my own!
I have two Tallstriders!

Mia's lovely bird is Spazzranache! <3 Or Spazzy, for short! :3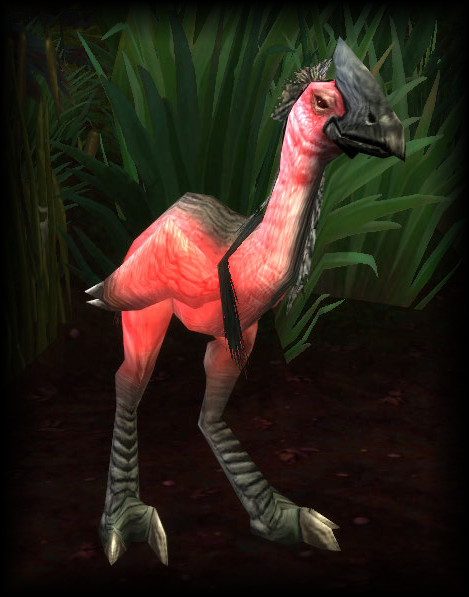 I had tried a fox with Mia, but it really just didn't stick that much. I was never really a huge fan of tallstriders at first. I had one a long long time ago names Spaz, but he was more of a tame for fun, and this was in Vanilla so he soon was released to make room for other pets. So here is Cata, and with foxes having no luck, I decide to listen to everyone who raved about how aweaome tallstriders were and get one for my own. I first tried out a white one, and he was okay, I named him Harrison, but he just didn't stick as well as I had wanted him to. It probably would have gone better if his legs were all black, because for some reason I love animals with black legs. XD
So I went to the tallstrider skin that I loved but hated admitting that I loved: pink. And I just could not tame any other tallstrider than Mazzranache.
I have a very deep fondness for one of Mazzranache's chicks, though. Spazzranache is such an adorable little bird, I couldn't help but pretend I tamed him instead, so Spazzranache is here now, and here to stay, despite his new run (I miss you old run, you were amazing

).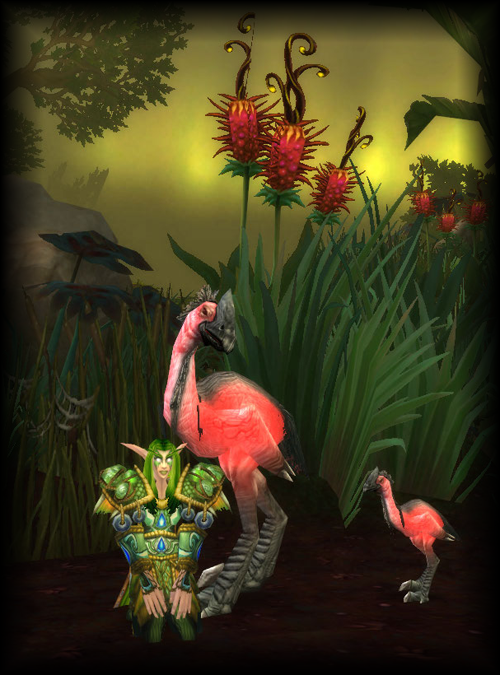 Spazzy was used a LOT more when he had his old run. I can't get rid of him, despite the new one, just because I love him so much. He makes me laugh and is just full of fun and happy personality. He loves to run around and be super quirky, and he always makes me smile and laugh.
And of course when I first saw the datamined Swift Lovebird, I knew what that meant, pink tallstrider mount! I love matching mounts and companions with my pets, so I was super thrilled!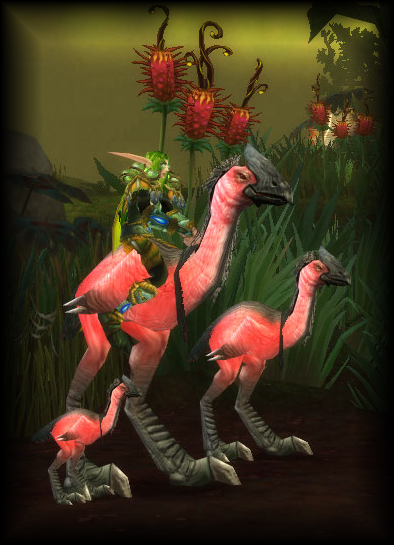 My second tallstrider belongs to Sarahma, his name is Byrd!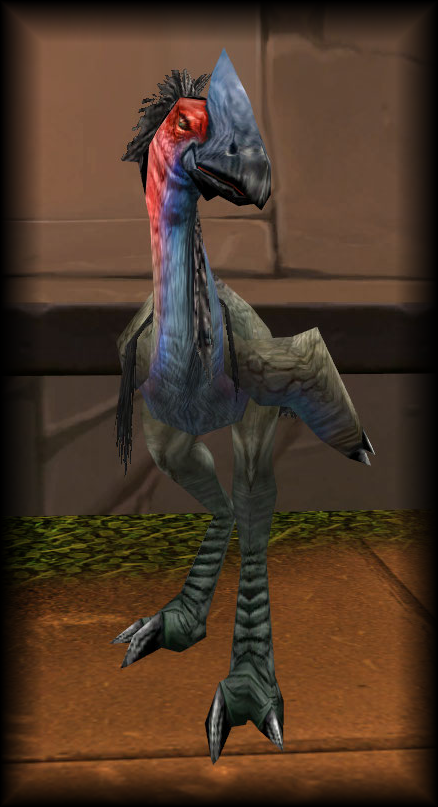 I started Sarahma as a bird collector, so of course I had to get her a tallstrider! I only wanted her birds to have natural colors, though, so I tamed the one closest to a cassowary!

I love him, he looks very tough and sort of punkish. Byrd is a very proud bird. He's strong, physically, mentally, and willfully. He has his quirky moments--what tallstrider doesn't?--but he's generally calm and collected.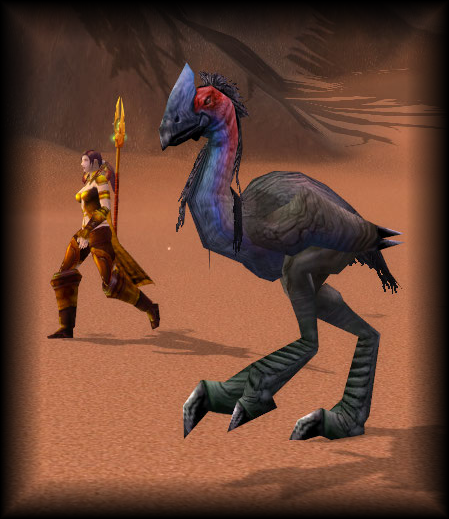 He also has this absolute love for Sarahma's armor. He'll rest his head on her shoulders and gnaw on it all day. That's just what she gets for having such a shiny wardrobe!

And deal with it she does! Byrd is wroth it. <3
_________________
Thank you to everyone who has made me a signature!
AKA TheDoomcookie
Mia's Stable|DeviantArt|Tumblr