I have always liked scorpids, but could never bond with one. When I saw the new scorpid model in Cataclysm beta, I was instantly in love. I knew I had to have one. It was between the green (of course), the bronze and the black, but green was the one I really, really wanted.
Well, I found the bronze one first, and tamed it. I used him for a while, but I still really wanted green. Several days later, I woke up butt-early on a weekend (like...probably 4:00 a.m. or so) to wait for Madexx. I had a feeling I'd find him eventually. I circled that freaking desert for hours. Finally, my NPCScan went off and I about pooped myself. But, unfortunately, it was black Madexx.
Here's where it gets crazy. A friend I had made during the camp said she wanted Madexx. She didn't care which color she got (or at least that's what she said at the time). So, when I found Mr. BlackMadexx, I got all frantic and tried to contact her. However, since I was so nervous (and probably because I was exhausted), for some stupid reason I tried typing her name in instead of simply opening up my social window. I evidently typed her name wrong because it said she didn't exist or w/e. I had kept pressing tame and cancelling, hoping to deter people. Well, I accidentally let the tame bar go all the way. I think it was kind of half and half, actually. Like, I didn't want him, I wanted my friend to get him. I didn't want to tame him and I knew that I was doing it anyway, and I didn't stop myself. I don't honestly know what was going through my head. Anyway, I ended up with black Madexx.
Another friend of mine happened to be out there, too, I think trying to help me camp (he really wanted the blue one so he was going to let me have any of the other colors). I flew back to Ramkahadenasmcpaoeil-whatever and my friend complimented me on the new scorpid (in the meantime, I found the friend online that I had wanted to give black Madexx to and realized my horrible mistake). I had to admit, he did look really awesome, but he still wasn't GREEN. I tossed him in the stables in disgust and told my first friend about the mistake, and gave her the tame time and promised I wouldn't go to the desert again until she got her Madexx. I felt so guilty after getting the black one that I didn't want any accidents like that to happen again.
Well, wouldn't you know it, but the GREEN one spawned that very night. Yes, the one time I wasn't in the desert because I wanted to be nice and help someone out. Figures! I was so upset. It was all my stupid fault for accidentally mis-typing her name that morning. That made me even more bitter and resentful towards black Madexx (yet I didn't get rid of him, oddly enough).
I found myself in that blasted desert again, still looking for green Madexx with the friend that wanted blue Madexx. Well, the bronze one spawned. He didn't know whether or not to take it, but I encouraged him to, so he did. The friend that had gotten green Madexx decided to fly out there so we could take pics. I didn't want to be left out, so I went to the stable to grab a Madexx (I still had both the bronze and the black at this point). At first I was going to take the bronze, but my other friend had just gotten one and I wanted them all to be different. "Fine," so I grabbed black Madexx and went back to join my friends.
As we started taking pictures, all of a sudden, this bond just instantly formed with black Madexx. He had this strange and wonderful sense that he somehow was MINE. He spawned specifically and especially for me. To top it off, with all the pictures we took, I don't think I ended up with a single one of him waving his claws. He formed this kind of emo personality, which is unusual for my pets, like nothing in the world could thrill him. That probably sounds pretty boring to many people, but I found it adorable and endearing. My little poopypants Madexx! I gave him the name I had given my bronze Madexx, Vulkoor, and let the bronze Madexx go. I was totally smitten with my black one now.
However, I still wanted the green one deep down. I had the stable space, so I figured there was no harm in having two Madexxes. So, I camped still, though not as religiously. However, of course, one night after getting off of work, I decided to be responsible for once and do dishes instead of logging on WoW right away. Well, wouldn't you know it, but while I was doing that, green Madexx spawned. The friend who had just gotten bronze tried to hold him for me as long as he could, but he said that when I didn't show up online at my usual time, he felt he needed to tame him before someone killed him, so he did. Naturally, I logged on about five or ten minutes later and he told me what happened. I was like, "You've GOT to be kidding me!"
Well, I can take a hint. Green Madexx still has not appeared to this day, and I'm starting to think he never will. He only spawns when I'm not around. I believe that my little emo black Madexx was meant to be, and now I'm at the point where I don't even want another Madexx. Vulkoor's all I need and I love him to bits.
(Seriously, Vulkoor rarely ever does the claw-wave. I think he tries to do it when I'm not looking, maybe.)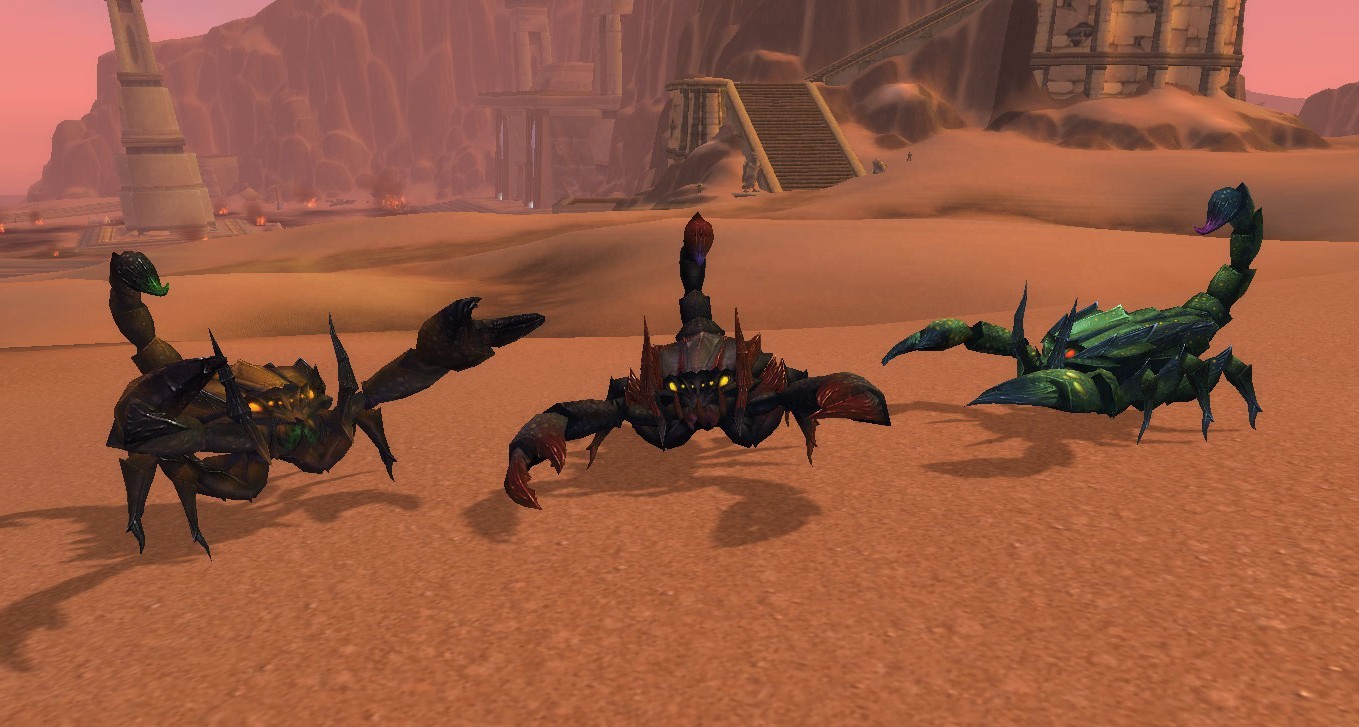 _________________
Signature and avatar created by Serenith!
Slickrock wrote:
Given their current trend, we'll probably get a spirit toucan that farts loops.