I've been waiting for this pet family to pop up in the appreciation thread rolls! Aiyah!
We can't possibly start this thread off proper without little Terrato, my World of Warcraftian mascot.
The game history: Back in the day when pets had things called caster stats (*shudder*) I read somewhere that nether rays, these goober things that I was currently on the daily grind with the Skyguard to get as a mount, were capable of having the most HP… or something. "Oh, what a glorious tanky pet!" my nooby-hunter self thought. Unfortunately, every ray at the time was considered a caster, EXCEPT for the Coilfang Rays in Slave Pens, and Underfen Rays in the Underbog. Since Slave Pens rays were easier to get to, I recruited my mage boyfriend and warlock friend to waltz into slave pens, fend off the first few trash packs, and tame my Terrato.
I liked him so much that when I earned my nether ray mount soon after, I grabbed the same color (green) for the full effect. If only the Nether Ray Fry added later was also green! Ah well.
In comics and doodles I drew from then on, Terrato would usually make small appearances.
(I think this is the first one I ever drew circa 2007 or 2008!)
Terrato was the first pet to get personality, in small ways: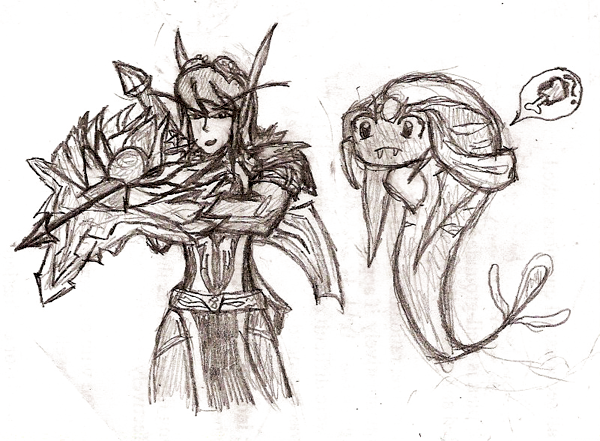 He would always think about food. This was a joke about pet loyalty in general. In-game, I was feeding him handily via my Everlasting Spore Frond, but in drawn-form, all he ever asks for is MEAT.
From there, it was simple to come to the conclusion that Terrato may sometimes think everything is potentially a meal… he gets /scold-ed by Neilaren very often for trying to nom on various things and people that are not food!
Now that I've spent some years developing characters and backstories, I've added more details, like how Terrato is probably considered the runt of his "pack", he's been raised more as a domestic pet than a combat pet (I really don't use him for battling so much as I use him for company when I fish and loaf around Orgrimmar and etc.)
I've also gotten very accustomed to drawing him a very specific way, even if it's not at all how nether rays really look.
vs.
and all…
…OK. I think I'm done weirding you all out over how much I love drawing Terrato now…

Uh Th-- ah Th-- uh d-- ah, That's All, Folks!