I can never resist going after rare pets for long, especially when they've only recently been added/discovered. I'd been chasing Lightning Paw for quite some time after it was figured out where she is but every bush had a hunter hiding in it. So I ended up giving up there. Fast-forward to when Gon and the Spectral Gryphon were found. I'd gone to investigate the gryphon as it was the first of the two only to, once again, find others already waiting. However one of them gave me the handy tip about Gon and I'm pretty sure I was realm-first to tame him. At first I freaked out and instantly named him after his wild name, but decided it didn't work. He is now Torquil, which not only sounds awesome but also means "Thor's Cauldron" which I find fitting given his dark-blue colour.
I tried on the gryphon again but, as with several people here, had the issue of campers and trolls so once again had to give up. Fast-forward again to a couple days ago. I was about to log over to my demon hunter to run BT for the glaives again only to be hit with curiosity. Along the way to Stormwind I checked Duskwood. I bumped into Elysia (lightning-struck) in the bush by the road. I'd had that name planned for her ever since I learned about her.
And finally made it Stormwind... and found absolutely no one there and the feather available. Upon flying in there was a group of Alliance nearby who I'd not noticed behind a wall which made me panic, however it turned out they were all level 60. Tried again, popped the feather... one of them ran over when the gryphon spawned. Worried that someone was coming I took my chances, tamed the gryphon and jumped into the canals. I have to say, I'm surprised how taken I am with Philomena (courage). Initially I was going to name it after Varian but thought it'd be too corny after all.
Now. "Why the sadness?" you might be asking. I main Survival nowadays meaning I can't use any of my new beasties. It saddens me greatly given how much effort and thrill went into getting the three of them. I am working on Titanstrike in preparation for feathemanes so they get to come out when I'm doing that, otherwise they must stay in the stables. And no, before anyone calls me out on it I am not complaining in that the exotic tag shouldn't be a thing

Having played BM up until Legion I now know both sides of that argument. I'm just disappointed in myself for taming them knowing I can't use them often. Why, me? Why torture yourself over pixel pets like this?

_________________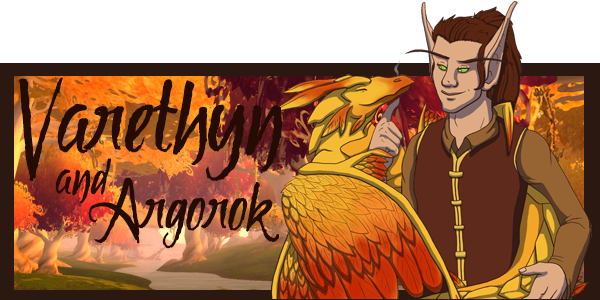 Thanks Kamalia for the awesome sig! Avatar by me!
Check out PetEmote here! | Visit my Flight Rising lair!