I can't explain why but as soon as I got the Dark Ranger's Hood from the secret miniquest I just had to try and make an outfit around it. So much in fact that I full-on mogged it on Vare, which is highly unusual as his Talhide set is perfect for him. Anyhoo I tried a few different pieces since there sadly isn't anything that truly works with it and am fairly happy with what I have now. Which is to say, I would be if it didn't require a tabard to make it all fit. Which is a shame. If nothing else it gave me a good excuse to bring Charna with me again.
Kind of wish it, or another version of it, gave glowing red eyes like some other hoods do for the full Dark Ranger feel.
Normally Vare doesn't do selfies. It's just not his thing. But today I managed to catch him a good enough mood to get a decent one out of him
Bare in mind also that Vare is currently Survival so ranged hunters will need to play around with bows/xbows/guns. This set uses
Head: Dark Ranger's Hood
Shoulders: Hidden
Back: Brilliant Hexweave Cloak
Chest: Azure Scale Hauberk
Shirt: Any Martial Shirt
Tabard: Nightfallen Tabard
Gloves: Renegade Gloves
Belt: Renegade Belt
Legs: Profit Boon Legguards
Boots: Asylum Boots
Weapon: Dark Espadon (with Berserking enchant)
Chest, legs and boots are low-level quest rewards (I believe there are versions for both Horde and Alliance - these ones are from Azshara), Renegade gear is all BoE world drops, martial shirts can be bought from Threads of Fate in Dalaran (possibly old? Not checked around new Dala much yet), cape is crafted and weapon is also a BoE. Might try a different cape. Other suggestions are welcome and I'd love to see what you guys come up with!
_________________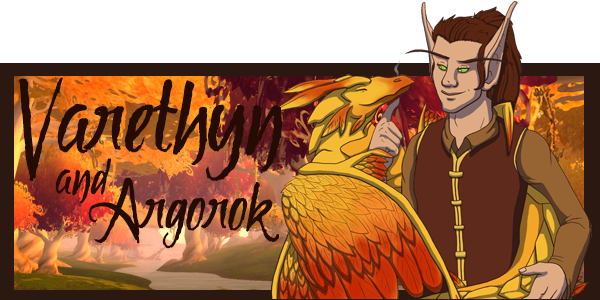 Thanks Kamalia for the awesome sig! Avatar by me!
Check out PetEmote here! | Visit my Flight Rising lair!