1. None except goats are tameable now, and we don't know if others will become tameable.
2. Both male and female Pandaren can be all four colors, black, red, brown, and grey. Only the female pandaren get the choice of long or short tail, though
3. I haven't tried that. I imagine it'd still be like it is now, where it's doable but you have to lone of sight for the mind control. But you would do more damage.
4. Turtles and beetles still have their shields. I highly doubt all other tank pets are going to get it, but nothing has been confirmed.
5. No idea. I imagine not many people are testing the drop rates of low level greens.

But perhaps someone who leveled a Pandaren will know. I sort of doubt they'd mess with the drop rate, but who knows!
Edit:
Here are some screenshots of all of the pandaren fur colors, on male and female. I also put screenshots of male and female red pandaren tail comparison.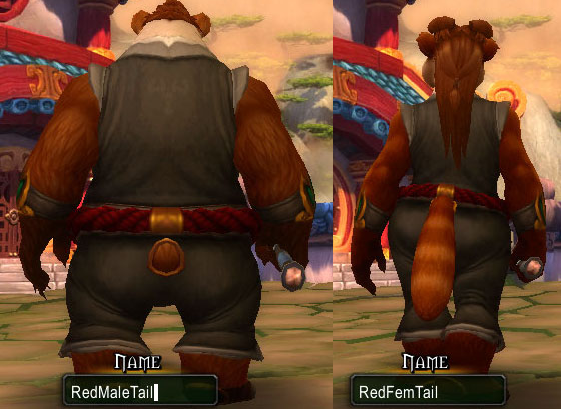 _________________
Thank you to everyone who has made me a signature!
AKA TheDoomcookie
Mia's Stable|DeviantArt|Tumblr