It's been a long time in coming, and I know some here were quite interested in seeing more of my art after the failed
PetEmote Illustrations attempt
. Again, ironically, I am suffering artblock so updates will be slow. Hopefully in posting a few things here I'll regain some inspiration :3
First of all my elven mains.
My sweet, shy hunter, Varethyn Swiftrunner (left) and my rather more outgoing and cocky paladin, Kithren Dawnweaver (right).
Old work is old but I am still happy with some of them. Such as my very first WoW drawing for one Azunara
This is Kethtaz, a worgen death knight for the lovely TygerDarkstorm
A lot of my work is based off an RP I'm part of elsewhere, so expect a lot of that

First a very random piece inspired by random OOC comments for the WoW RP that used to go on here
And another, less random one
Kith's in love with a human warlock. The irony. He don't care though
A young orc by the name of Kinsy got mixed up in the wrong kind of action and sought solace from Var
Followed by a dip in the nearby river (dat hair, Var!)
And some random stuff for your admiration/amusement
_________________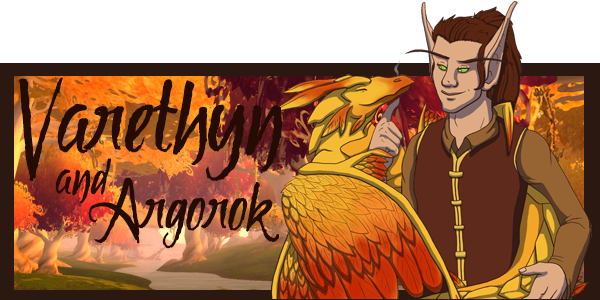 Thanks Kamalia for the awesome sig! Avatar by me!
Check out PetEmote here! | Visit my Flight Rising lair!