Wow...those primals.
....
I wish I had the beetles to buy a MoD outright. And maybe I'll just splurge on it. Because my boy could look like this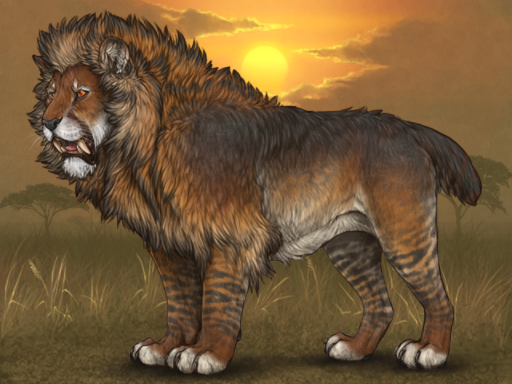 Oh, on the topic of the evil lionesses. Hm, I was kinda put off by them at first. And some of the personalities, like the brutal one, I'm not keen on keeping around. But the less evil evil ones, like mischievous, actually have some amusing interaction "emote" things that kind of have endeared them to me
For example
"When you greet her, Perper smacks you with her tail as she turns around to take care of her own damn business."
That's pretty much exactly my cat, who I got that lioness for
Then this, from a stingy/evil girl
"You see Sari hurriedly push a pile of leaves over a hole, but you get a glimpse of a huge pile of feathers hidden away."
Yeah, the evil girls are really...catty XD
And some of the "good" lionesses really kinda have some problems of their own. My proud/good girl did this
"Hekate is busy meticulously grooming her paws and claws of any dirt and blood that clings to them. They have to be perfect. She doesn't even notice you."
Hrm. I think I'd rather be whacked in the face with a tail, honestly.
And cub training for an intrepid/good cub gave this
"You watched as Valkyrie crept quietly up to a sleeping pridemate, took the rib bone they had been chewing on, and slunk back off to her own sleeping spot. How sneaky!"
Not the nicest behavior, is it?