/cringe.
So first post here was ironically on a funny pet name thread. >.<
Annnyyyy way. My fiancee and I have been Mastering devilsaurs for a long while now with rather....stupid funny names. I'll list them below. >.<
Orange/Brown devilsaur - Monkeysaur (A living legend on our server)
The White/albino Devilsaur - Poodlesaur
The Black/blue Devilsaur - Poopasaur >.<
And King Krush - Yoshisaur (Common but still amusing)
However when he got me on the -saur naming craze for devilsaurs I wound up naming my King Mosh version...
McLuvinsaur
Other pet names I've had that aren't too funny but sometimes clever are -
Loki - Loque
Aesire (my Horde Character's name in Alliance common) - Loque
Cheshire - Gondria (Tell me it doesn't fit

)
Arrow - Skoll ....if you get that one I'll be so happy \o/
And given that I'm in the guild <Cake> most of our hunters have one pastry based pet name.
Two of mine have been Muffin and Crumpet (for arcturis currently)
And on one last note we have a member in our guild who's name is Birthday. Her name reads -
Birthday
<Cake>

_________________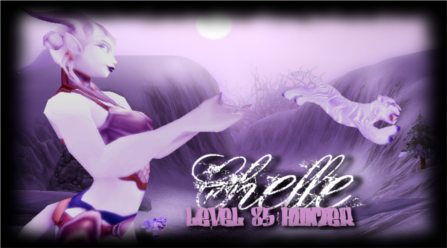 Meichelle (85) Moon Guard (US)