Tarn: That female from Darcy/Elizabeth is so cute! They'll look great with Rosette. Cute new oldie dragons, I really like that guardian. And Venom/Vial look awesome! New-Old Romeo looks great.
Iceflight: Beautiful mafia babies! I really love the blood/black/white skydancers, and those sweet Scales coatls. WOW, that obs/obs/tangerine ridgeback! I bet that one'll find a home.
Vare: Those sunny tundras continue to be so darn cute. Absolutely love Molgera, she's gorgeous.
Ashaine: New Noct Ash looks amazing! I absolutely ADORE his mate. And wow, his son is looking a little- concerning. Kanan is killing me, that's such a good color combo.
Nacht: Wow, I can see why you'd want to keep that mirror! How colorful!
SammyB: Aw, the beige belly on that first bog is so cute. Lovely hatchlings!
Tyger: I always adore Orkeck/Belial, be their tert maroon or not. My kid from them is pretty permanently safe and sound! Very cute coatls, I was tempted by the tan one.
------------
Meurtriere grew up! All he needs now is a Flame Tome and an Autumnal Wreath, one of which will be FAR easier to get than the other.

(edit- well who needs money am I right what I really need is dragon dressup) Edit 2: AAAAA Mozag is THE SWEETEST and got me a Fire Time. ;_; he's all done!
Aaand I found another plague lair I really like so I have this boy now. >.> He's gunna get Jaguar.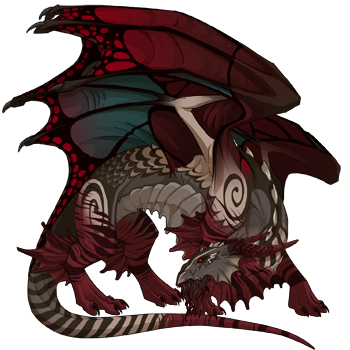 Finally, I swapped out my old Torgos for her sister, previously named Harrier. She's now Torgos 2.0. Much happier with her primary, and it helps cut down on lair space, thank goodness!
_________________
Tumblr ~ Flight Rising
Signature by Crookfish, thank you so much!