Welp hello. Been a while ._.
Lovely hatchlings from everyone's dragon pairs as usual!
Zedxrgal - I love Gurubashi's name, and the outfit really fits it!
Ashaine - Congrats! I liked the accent concept, so it's awesome it got accepted.
Tarn - I just
gotta
comment on Thingol and Tailitha's hatchlings. WOW what a color range! However, I think the middle girl Marya turned out really pretty, consider the
sheer amount of color
her siblings got. xD
Syleye - Wow! He makes a pretty good Belf (and party planner!) I'm glad you like him, looks like he's found his niche!
For a long while there I didn't grab any new dragons, other than trying to breed new versions of old lore characters (because sheesh, it's only like the color wheel came out what, two years ago?), and even that has been going very slow. However, a lovely Coatl lady caught my eye here on Petopia so I snatched her up, and I've been on a small spree ever since xD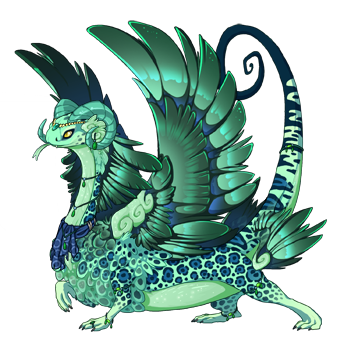 Aramentha here is one of Syleye's hatchlings. She was such a lovely shiny blue-green color I had to grab her! I had trouble thinking of a name for her for a while, but Tarn suggested a name meaning 'mint'. I didn't feel Shako quite fit, but I went around looking for other mint names and 'Araminta' kept popping up. That
still
didn't feel quite right, but then I'm like "Aha! I can replace the mint with mentha!" and that was more like it

I intend for Mistral here to be her mate, so I can eventually create "Mint-er Winds" hatchlings xD I'm still hunting for a familiar for him, but I think I want on of the newer Arena Chimaeras, i just need to get lucky farming for it! I also really need to save up money, as I intend to buy him some Frigid Fugitive Shackles to complete his look (and her some Windbound Plumage). But shoot, I may have made millions of treasure of my FR career but you'd never know it considering I'm
exactly 30k rich wow so much
. It's going to be a long road...
A girl I got from here some time back named Shaedelle got a slight upgrade to her wardrobe, but more importantly ~
She got a mate! I named him Dysmas. I'm quite in love with this dragon right now, even if he is a bit of a mess with his wardrobe and his sunglasses make no sense if he's wearing a
blindfold
(as a couple of friends have pointed out to me). But you know what, they're jealous of this senseless mess. He cost me a pretty penny and gosh darnit he's worth it.