Lupis - Oh boy, you sure know how to dress Ridgies. They're one of my least favourite breeds, because I can't ever make them look good, but then I visit your lair and I'm so inspired, until I buy one and realise that some people have the skill, while others, alas, do not.

I love those Tundra babies, but since they can't hold a candle to their beautiful sister Mal, I'll just have to sit on my hands! Ganymeda looks perfect with that accent (probably my favourite one this festival), and I'm simply amazed how well the colours on the plumage work on Saber. I've also been contemplating getting a PC for that accent, but it would be hard to find one nicer than yours.
Tarn - Beauty and The Beast's hatchling may be a little odd, but I think she was still pretty in her own way, none of the colours clashed, at least! Mr. Hyde doesn't seem to be wearing the plumage anymore, but he's still mighty handsome. Interesting Spirals, shame only one of them got capsule. Mm, I love what you've done with the Riot of Rot accents, especially Jade is gorgeous. Your crimson/crimson WC boy is a total looker, that emerald tertiary should be fun to work with! Those are very pretty babies, especially the PC chap. I'm such a sucker for radioactive butterfly, that I actually like that last scatter!
Ice - I love the Skydancers from Sunday, sanguine/sanguine skink/spinner never gets old, no matter how often I see it. I still don't have one myself, but maybe some day! The double obsidian Skydancers from yesterday are very striking as well, especially the handsome chap with runes.
Death Dino - Thanks for sharing your dragons with us, we're always happy to admire them! It's so fun seeing the types of dragons people enjoy, and how they dress them up. I'm already rather in love with your Anavale, I have a serious weakness for amber and I like what you've done with her apparel. Wow, the new apparel looks amazing on Zilla, his colours really match.
Syl - You always produce such interesting and beautiful metallic/alloy dragons. That orca/orca/cherry girl looks so unique!
GormanGhaste - Gorgeous triple camo there! Those genes work so well with his colour, I think. Aisnley is so pretty. I can't wait to see the results of this breeding project!
Dew - Oh my, Flora is absolutely gorgeous. I adore the way you've dressed her and she really suits her name. I see she has a maroon tertiary - I'm excited to see what you will do with her. Nobody can mix reds and pinks as well as you. Great apparel on Riot, she's spooky and beautiful.
Moonith - I really like that pair of yours, and I must admit they are super tempting. Perhaps I will succumb one day.

Tyger - Fiesta is such a cool dragon! She caught my eye when the mafia showcased her, and I'm so glad she didn't get exalted. That sand petals Bog is very handsome! I love the use of that accent on Rhaegar, it works so well with the apparel, and I'd never have thought to use that with such a bright red. It looks great!
Ashaine - I really like that apparel as well, and Dominique pulls it off so well with her pale colours. That apparel must be a dream in a lair like yours that has so many black and red dragons!
Riot of Rot always lives up my lair. I look forward to it all year!

Mama Chapel is the first to wear the new apparel, although I need to get on a better computer to see if I'm bothered too much by the clash in reds. On this computer it looks okay, but my own has richer colours (it broke on Friday) and I may find it jarring in the long run. We'll see when it's fixed, but it's fine for now.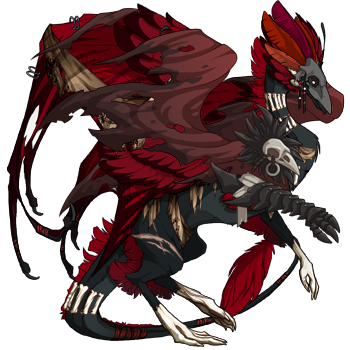 Jezebel got her jaguar and the new plumage, and I am so in love.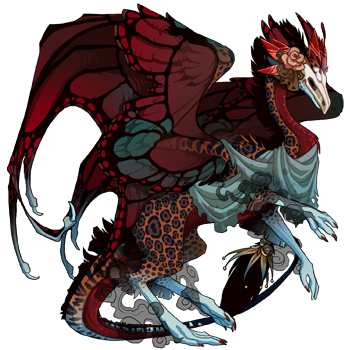 Finally an accent to liven up my Aconita.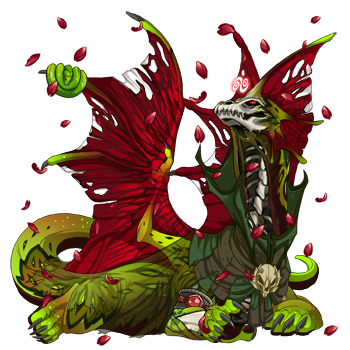 I finally dared to take the plunge and changed Praline from tiger to savannah.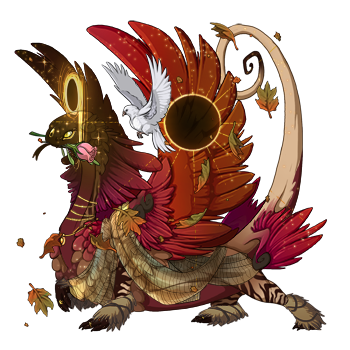 And finally, new accents for Shantak and Blessing.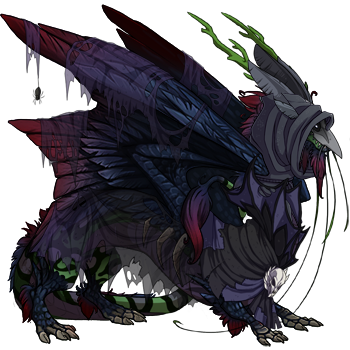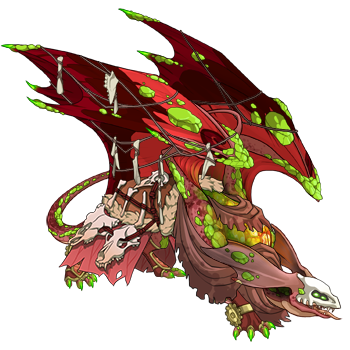 _________________
Many thanks to Ashaine and Kurenio for the beautiful signature and avatar!