Woah did I fall behind. cracks my knuckles-
Nacht: Skywhisper had some gorgeous babies! Love the red thylacine on the second one. I ADORE those brightly colored tundras!
Tarn: WOW- if I'd had the gems and he'd matched my lair, I would have been ALL OVER that first metallic/alloy coatl. What amazing babies, they're gorgeous! Very cute Batman/Robin babies, even without petals they're mighty gorgeous. And WOW, I love Ormond! He looked familiar so I checked his lineage, and he's the brother of one of my super old favorite dragons from a long time ago. Could I get on the ping list for his babies? I can't pass that coincidence up!
Iceflight: I love those red and pale pink mirrors! That pair always tempts me.
Lorelei: Oooh, they did turn out a little funny, didn't they? Oh well, the parents are gorgeous!
Ithilim: Lovely pale skydancers! They're like little powdered sugar cookies, how cute.
Tyger: Wow, Pinkberry and Auroran have some very bright colors! Love the skink on the Domino/Alby baby.
Syleye: I need to start getting involved in profit pushes. Love the new genes! That tundra looks so sweet.
Dewclaw: Crisis as it may be, the dragons are gorgeous! I love that PC, his circuit is so ornate.
Mozag: It's no surprise that I'm in love with both of those dragons.

They grew up beautifully!
Vare: When my dog passes away, I might be after one of your tundras from that pair as a memorial dragon. They're always so cute! Love the Rayya / Lowri babies. The lace on that triple orca worked out so well! And I'm glad to see your project pair fully gened!
----------------------
and for all that commenting I have exactly one thing to show off :,)
Roe grew up the other day, and I was so so worried that I wouldn't be able to dress her- I've struggled with female nocturnes in the past. But it turns out all I needed to do was toss one of those amazing aviator coats on her (why don't I have more of them I love these coats), and everything fell into place. Now if only her mate were so cooperative...
(edit: now even better, thanks to Mozag! <3 )
Edit again- haha I lied I also finally dressed up Veil in a way that I like!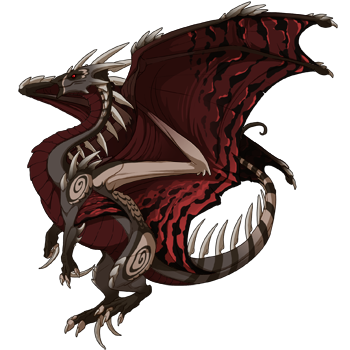 _________________
Tumblr ~ Flight Rising
Signature by Crookfish, thank you so much!