Tyger:
Aha, I thought I'd gotten Thorn from one of your sales posts! I'm pleased your friend is so happy with that particular sale- I love him to bits. That second x/blood/blood guardian baby is amazing! And very similar to Thorn so I should hold myself back. The last TidexLuna baby is so cute, like a little ice sprite.
Nef:
Oh man, dear sweet Percival- he was my first love on this site. No wonder Jack is so firmly planted in my lair. It's safe to say that Jack will be active until I quit FR, and that doesn't look to be any time soon!
Mozag:
I suffer the same thing in my lair- I keep going "ooooh" and picking out these weirdo dragons that
technically
fit the theme, but just look bizarre and out of place in the lair. And then I can't get rid of them. And goodness gracious, I think I write maybe one dragon bio a month.

As far as comments go- Orb is stunning as a bog! Mulch has such a bright, cheerful tail with the bright stripe Skink gives her, no wonder she's a flower child. And WOW, Katorga is is a looker.
Tarn:
Oooh, you keep getting awesome oldies! Love the two newcommers. Buttercup's scatter is honestly amazing, and while I usually stray away from pastels too, I can totally see why you're in love. Her colors match up so well!
Iceflight:
Love the mafia babies! That triple Wine is beautiful with her subtle scales. And- can I snag this girl? I shouldn't but I previewed her with Alloy and...... yeah..........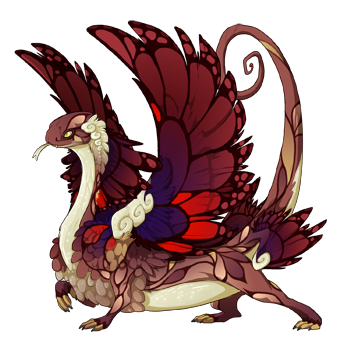 Syleye:
LOVE those imps! The first boy especially is such a pretty one, I adore sanguine.
-------------
I'm running out of dragons to show off! Three bogsneaks today.
Gilgamesh was a dream dragon. I don't remember what lair it was, but I was snooping on some real good Plague lairs a while back and saw Stone glimmer with Oilslick as a primary and just about died. It was a stroke of amazing luck to find this boy not too long after! Admittedly he was a coatl and had all the wrong genes, and then turned into a guardian- and was the first of my dragons to get a bogsneak scroll. I still can't get enough of his colors.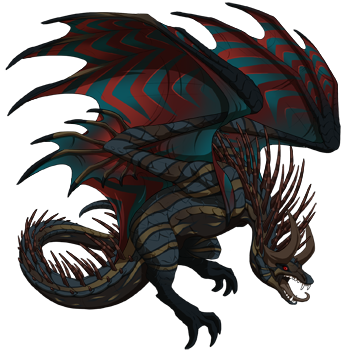 His mate, Ganymeda, was not as easy to get. I decided on what she'd look like very early on, but actually obtaining the dragon was quite the experience- her colors were more or less nonexistent at the time, and I ended up going through three different variations of the same breeding pair before I finally got her to hatch. It was so worth it, though. Umber glimmer gives me life.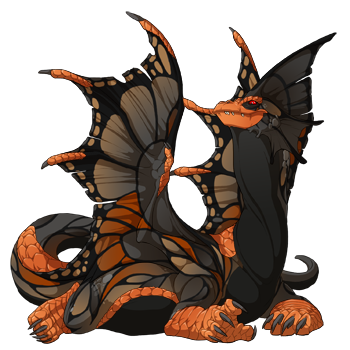 and finally, Volcanus here came from Tarn! I got her scales as soon as the gene came out- as much as I loved her glimmer, something about the silly Big Bird beak scales gave her just charmed me beyond words. I still haven't dressed her to my satisfaction but she's such a pretty thing.
_________________
Tumblr ~ Flight Rising
Signature by Crookfish, thank you so much!