Tyger: Love those murky dark Horn/Skylark kids! Those grey and blue guardians are really striking, too. Wardance looks amazing with Tapir, the accent really makes it look nasty and perfectly Plague! I love Tarnish and Sia's kids, such nice little muted colors.
Ashaine: You have some kind of superpower when it comes to finding really striking black/red/red gen1s! She's gunna be gorgeous.
Tarn: Sayi looks great, I love her mix of apparel on that accent! REALLY love Elaine's jester hat under her bandana, wow +_+ that's such a cool look. Jupiter and Oblivion are a really cool pair, I like the potential in their kids! All the new outfits are looking great, especially Chianti and Dazzle. That nocturne from Wesley/Buttercup is AMAZING. What a great pair!
Iceflight: Lovely mafia kids, I'm SUCH a sucker for the tan/red/grey metallic/alloy/glimmer imps and bogs. Those Copper spirals are just beautiful! That coral reef dragon of the day is out of this world, I don't think I've ever seen such a perfect reef dragon.
GormanGhaste: I love all your fae themes! They're just so cute.
SammyB: Great bogsneaks as always! I especially like that purple one with opal!
Syleye: Those Deathwing kids are so cool- I love the runes one with Blood wings, especially!
--------
Hatched a nest! I still really love this pair.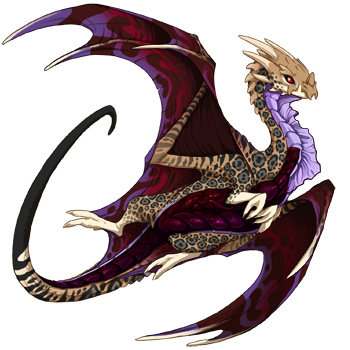 _________________
Tumblr ~ Flight Rising
Signature by Crookfish, thank you so much!