Peridot: Ginger is gorgeous! Her new gene fits her very well, I love what it does to her face and throat. And wow, that new noodle lady is absolutely adorable, I can see why you got her.
Rawr: Aw, I love those babies! Metallic/Alloy/Runes work out really well with the colors you breed.
Tarn: Gin and Tonic had very cute babies! I really like that Scales Sherlock/Watson baby, and ooooh, those orange dragons are so fiery and warm.
Dew: I love Lucifer, triple sanguine is such a striking look. The purple-pink pair look really nice in their lace!
Iceflight: Amazing as always! I really like those red/green/runes coatls this time.
Syleye: Capricorn looks wonderful grown up. Such pretty wings. LOVE the new runes guardian babies!
Tyger: Awww those bright noodles are so cheerful. And woops! I bought one of your friend's ridgebacks only to realize my friend had asked for her first, so I sent it her way. But wow, she's very pretty!
SammyB: Very cute bogs! That blue one is hypnotically bright.
----------
Edit- I finally have something to show off! I LOVE the new male guardian accent from the festival, so I brewed one up instantly and then realized I had nobody to put it on. But I've been wanting a swamp/blood/blood with poison/butterfly/glimmer (it's easily my favorite gene combo at this point) for ages, and one was on the AH- as an imperial, for 150k. ...heck with it. He's mine now and he's beautiful.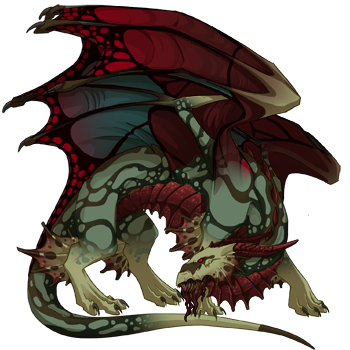 _________________
Tumblr ~ Flight Rising
Signature by Crookfish, thank you so much!