Syl - I really love your fire mage pair, especially Vesara with her surprising and very pretty accent. Those two Snappie babies are absolutely gorgeous, I can't decide which one is the more attractive!
Tyger - You've been posting so many lovely babies, and it's always a pleasure to see them all. Tonsil's kids are always wonderful, the berry skink one being my favourite. I was also very tempted by Hex and Tygeria's son Merrion, but decided that the pear wings are just a tad too fresh a green for me, but I keep on visiting his page anyway - what a looker! Faeril is also perfect, I really love wine and raspberry and he has the best of both worlds. <3
Dew - I always love seeing your dragons - you have such an eye for apparel and accents that you make me want dragons that are completely not my style or taste. Case in point: Galaxy! She's marvellous. Eerie is very cool as well.
Niabi - Impulse buys are the best. Most of my dragons are impulse purchases, and it never gets old seeing something amazing and falling in love with it so much you want to buy it. That happens to me rarely now, but oh when it does - best feeling ever.

Jordache is so beautiful, I really like those darker, moodier blues and her genes are so pretty.
Tarn - Even when I don't write, since nothing happens in my lair and I'm both busy and lazy in turns, I LOVE seeing your dragons and your scatters and the fun oldies that you buy. Thank you for always posting faithfully, and keeping this community alive and kicking.

Luke and Lorelei's kids are beautiful! I really, really struggled with my desire for the black skink brother, but unfortunately I can't get over my general dislike for spines - still, I love how he looked like a skeleton because of that great skink! Watson looks so nice with capsule, and much better than with lace (although I admit I'm prejudiced, since lace is really not my thing). Jupiter looks very earthy now, with his colours and I think his outfit is super cool - like some crazy robotic super hero. I'm a total sucker for bronze butterfly, so I think Diesel looks great. Besides, with a name like Diesel - I don't think a fire aesthetic would be bad at all. Ooh, I like those Coatl babies, and I really enjoy bee, but I must admit that my favourite is the auburn boy - auburn petals is so lovely.
Ice - There have been a vast amount of beautiful mafia dragons every day, and it's so nice seeing them all. There are too many to single out, but rest assured that virtually every jaguar dragon has me sitting on my hands to stop pressing the buy button.

Sammy - Beautiful bogsneaks, I especially like the dark blue one!
Teigan - Sprig is really cute, phthalo poison is really gorgeous and the plans you have for him look interesting! Congratulations on breeding the Ysera dragon in the colours you wanted! It's so satisfying to finish a project. Trout is so cute, and I love his name. You know, I've never been much of a fan of mixing blues and greens, especially the dark ones, but you really make it work. Your lair is intriguing and lovely!
Maximum - Wow, that girl Noc looks very cool with her pear circuit, and I'm glad to see she has a home!
GormanGhaste -Can I just say that I love your Fae dominated lair? I'm not even a huge fan of them, but it's so satisfying seeing such a uniform, yet interesting, lair. I wish I could commit to just one breed, but nope. Daffodil is absolutely stunning, such beautiful, fresh colours that work perfectly together. The clay boy is super cute too. I can't wait to see the results of your breeding with that pair, tarnish is one of my favourite colours and Severette caught my eye immediately in your lair. I bet they will have amazing kiddos.
Very little goes on in my lair usually. I'm picky and loath to adopt more dragons, and am currently entertaining myself with some breeding challenges, which I don't feel like reporting here. I did, however, buy this gorgeous girl yesterday. Jezebel will get jaguar primary later, because she's a bit too similar to one of my Bogs for now. Besides, copper jaguar is a thing of beauty.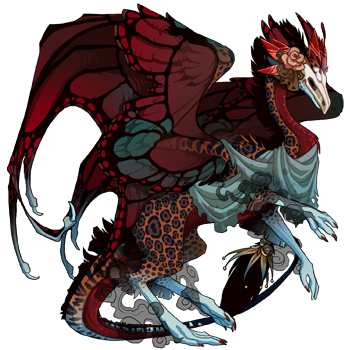 Sabah returned from a lengthy holiday in Tarn's lair, and I realised how much I had missed her. She's the only dragon (besides my progens) who is a remnant of my lair when it was still Fire, which I erroneously picked when I began, and I'm so glad she's home. I might do something with her old, boring genes at some point. Or maybe not, I rather like her as she is, even with her hidden slate tertiary.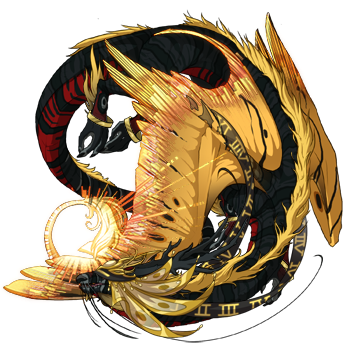 Blossom is a dragon of Tyger's that I have always admired, and Tyger very kindly let me give her a home. She's not my usual style, and is the only circuit dragon I have ever owned, but I just think she's far too pretty to discard, for now anyway. Thanks Tyger for letting me give her a home.