Tårnfalk:
Gru x Lucy's babies are cute! Mcarine's scatter colors are quite nice! Treasure looks great as a WC! Sherlock Holmes & Watson's hatchlings are very plague! The last imp scatter turned out great! Good plague colors! That pearl girl though...yikes! I hope she scatters better soon! Your festival cloak dragons look fantastic! Gorman & Sienna's little one with ghost is amazing!
GormanGhaste:
Your dragons look amazing in their skins, accents, and apparel! They suit them so well!
TygerDarkstorm:
I adore baby guardians with falcon! All the hatchlings have great colors and Ari looks wonderful all grown up and appareled!
Syleye:
Your hatchlings are always so stunning and these are no exception. If I had room for non-G1s, I'd take that triple red home in a heartbeat! He's so gorgeous!! WTB more lair space...

SammyB:
Your pearlcatcher babies are beautiful and those bogs are stunning! Wow!
-----
When ghost came out, the first dragon in my lair that I gave it to was my precious Lyris and I'm fairly certain I forgot to show her off. So here she is fully gened and all dressed up.

Also, I think I forgot to celebrate the fact that Fenryk came back to my lair after a long period of stasis in a friends lair. I'm so excited to have this boy back and appareled with the new icicle chains! They suit him so well! I also spent a small fortune on this lady on Friday, but she makes the perfect mate for my dragon, Ardeth (who is also double blood). I'm still in the process of finding a perfect accent and attire for her, but couldn't wait to show her off!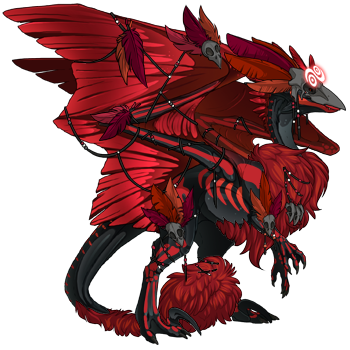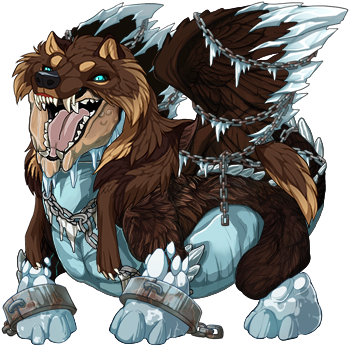 _________________

Ashaine Silverfel - <Dreadblade Assassins> - Silver Hand US - Faileas#1676
Deviantart | Facebook | Signature Shop | Flight Rising
"Not all who wander are lost."
Guildmaster • Hunter-Friendly RP Guild • Always Recruiting! • PM me!