I'm going to Necro this thread. It was fun and I think it's been far too long since anyone has posted on it!

Since I don't think Nef plays anymore, I'll randomly pick a fellow Petopian to start us off:
LupisDarkmoon! ♥
I couldn't have picked a harder lair to choose only one from!

All those gorgeous plague-dressed dragons. I'm in love! In the end I had to go with this boy. His colors really caught my eye and when I inspected him further, there wasn't one thing I didn't like. He's amazing. His apparel goes so well with this tert color and that accent is perfect on him!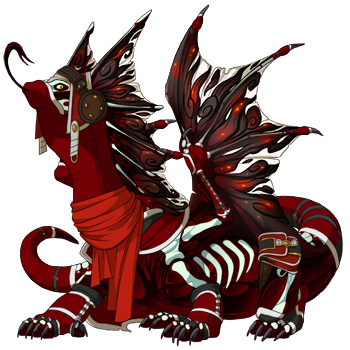 -----
Here is a link to my lair
.
Just a little note: As I used to collect only black/red G1s, the first 6 pages of my lair are mostly those colors (though a few non-black/reds can be found on pages 1 & 2). Other colors can be found on pages 7-10.

_________________

Ashaine Silverfel - <Dreadblade Assassins> - Silver Hand US - Faileas#1676
Deviantart | Facebook | Signature Shop | Flight Rising
"Not all who wander are lost."
Guildmaster • Hunter-Friendly RP Guild • Always Recruiting! • PM me!