need ideas on how to gene my moss dweller druid boy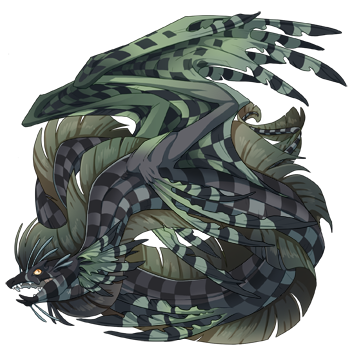 genes im allowed to give him - i prefer to keep his secondary as shimmer i think.. unless you can come up with a look which is better

:
Primary Genes: Basic, Tiger, Clown, Speckle, Ripple, Bar, Vipera, Piebald, Cherub, Giraffe, Jupiter, Iridescent, Falcon
Secondary Genes: Basic, Stripes, Freckle, Current, Daub, Paint, Peregrine, Toxin, Hex, Saturn, Shimmer
Tertiary Gene:Basic, Underbelly Smoke, Spines, Okapi, Thylacine, Stained, Contour.
plus special for his pack : Crackle, gembond and runes.
Petals, Butterfly Skink, Spinner,Glimmer, Poison & Toxin are allowed but only where the genes don't add a too bright hue to the colors - and i would like to stay away from gem genes

I kinda like his tiger and okapi, but if you want to steer away from that falcon/shim/contour look really good, spines will always look good, ripple is handsome on him, jupiter and smoke is kind of a cool look.