A place to centralize info (if any) from Blizzcon about new beasts in the next expansion that have potential as pets.
Most of what we have so far is only from concept art. However we've seen a few things in the game from videos, and Slickrock (who is at Blizzcon) has seen a few more things live. There's currently no confirmation that any of the new creature types will be tameable. They're only listed here because they have some potential.
CONFIRMED MODELS:

New wolf model.
Which is like a "no harness" version of the newer wolf mount. Slickrock confirms at least 3-4 color variants of the wolf exist, including a very dark grey.
New helboar model
. Better texture than the old one. The spikes are higher set, and it has four tusks like an Azeroth boar (original Helboars have two). This model appeared in the promo trailer, and a dungeon preview video, but also Slickrock has seen them in the wild while playing in person. This shot is from the dungeon video and is a bit fuzzy. Slickrock confirms at least four color variants of the boars, "three in the tan/grey/lightgrey variations, and one "frost" version that had some icyness to it".
Riverbeast
(name confirmed by Slickrock, who has also seen them in the wild). We don't have any model shots yet, just this concept art. He confirmed that it is a lot like the concept art, but (quote) "Body a bit longer, not quite as thick, and face much more hippoish, but that is certainly it."
Spiky, tusked clefthoof
. OK, so clefthooves aren't currently tameable, but they're so much like Rhinos they should be! We can hope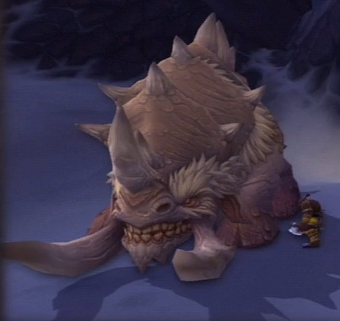 New chimaera model
. This has so far only been reported from a mount used by an NPC orc in
this video
. It looks quite draconian in style. Hopefully there are wild beast versions of it to tame! The only clip I can get is rather blurry: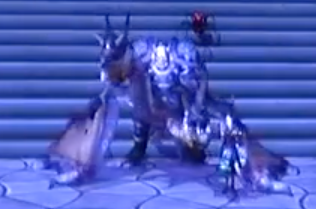 New sporebat colours
. Not a new model, but Slickrock has seen lighter and more colourful variants of the current sporebat model. About time it had more than three skins!
No images yet.
MODELS NOT CONFIRMED (just concept art):

New tallstrider design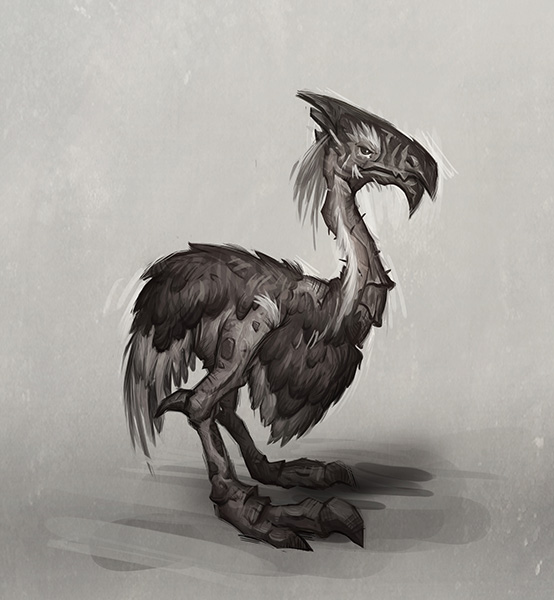 A toucan
! This is uncannily like
SpiritBinder's recent art
. He swears he's not secretly working for Blizzard.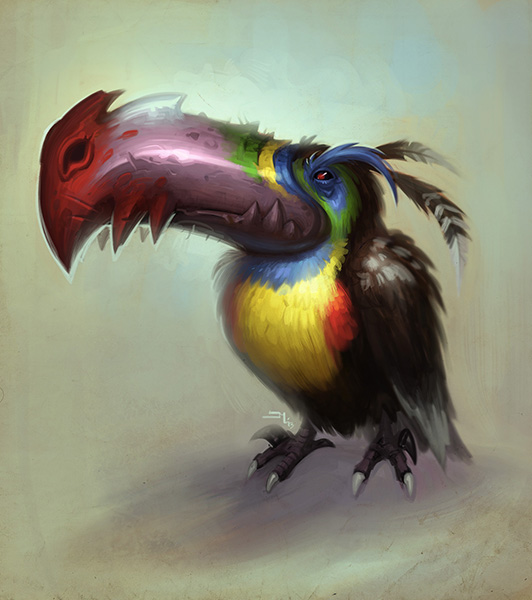 A "dragonfly"
. A panel discussion said they were considering making this a mount, which suggests that at least a model exists, or is in production: