Well I'm happy to say I was enormously successful in-game today

I ran a lot of dungeons on Taigi, both normal and heroic (ran normal UP a few times 'cause some jerk of a tank ditched as soon as he zoned in and the rest of the group collapsed, getting me stuck with the wait time for another instance. And normal Trial once).
Normally I have terrible luck with drops, but I was actually pretty successful today! I managed to get
Gilded Ringmail Hauberk
from the UP quests at the door, plus
Tear-Linked Gauntlets,
Twin-Headed Boots,
Trophy Gatherer,
and the centerpiece of the gathering day,
Uruka's Band of Zeal
. While most of them are blues, they're all still upgrades for my otherwise freshly-dinged Taigi, so I'm very pleased.
Plus, I managed to get two of my pets, Jackson (Humar) and Inachus (color-changing ravager) to 80 today too with all those runs

~VelkynKarma
_________________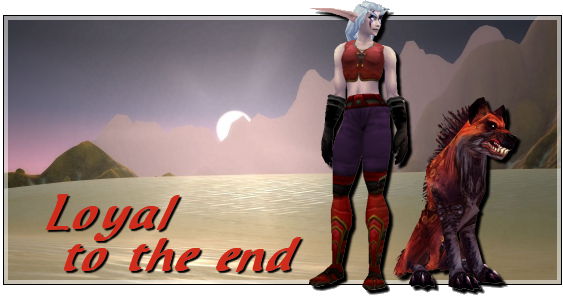 Silinrul and Jiaphyon of <Ominous Latin Name>
A big thanks to Vephriel for the awesome signature