For those of you who've seen my posts as of recently, you may have noticed the googly-eyed Jormungar that's been present in my signature for the past however long it's been. And you've probably been wondering to yourself, "Does that worm hold some sort of signifigance for ol' Slappy right now?"
Of course, the answer is a
yes
. That is, unless it's a
no
. But it's not, so it must be a
yes
.
...So anywho, I had just finished up a quick Nerubian digsite in Borean Tundra. When I was leaving for Warsong Hold, I suddenly noticed saw a lone nearby Jormungar that somehow stood out from every other creature nearby. Not only was he unusually large (everything else nearby seemed to be only two-thirds his size), but he also had this...
"thing"
about him that made him stand out from every other Jormungar I've ever seen.
Either this guy was the result of inbreeding, or I had spent too much time in that Nerubian temple-thing and was clearly going insane. Regardless, I kinda felt sorry for him.
Attempting to move closer to observe him better, he suddenly caught sight of me, and simply stared at me for three whole minutes, watching my every move and drooling large globs of saliva on my head.
Realizing this was probably going nowhere if I didn't do something about it, I made the first gesture of greeting to try and see how he'd react. And
ohhhhhhh boy
, did he
react...
It was at this point that I realized I had to do something quick, or I was gonna be a slobber-coated chew toy in the next five seconds.
It didn't take much to subdue him, but I've got a feeling I'm gonna be
stuck
with 'em for a long time. Then again, he's really got his own little personality that makes him stand out from the crowd, if you know what I mean.
Well. until then,
see ya next tame!
~Slappy
_________________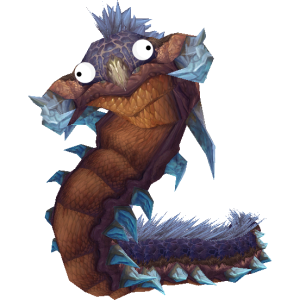 Jezpalimu - 90 Troll Hunter, Kilrogg
"So many pets, so little tame..."
YouTube • dA