My dad found a neat looking action figure/model thing at a yard sale, but we dont know where its from. I saw it when I visited him last but he doesnt have internet so I had to wait to get home to try looking it up, but I cant find it!. I dont have a picture but its discription is this:
It is similar to a gundam or EVA in looks, but with more of a reptilian or aerodynamic look to it.
Its hands are huge black claws, it is white in color, but with a Huge black "V" thing on its chest coming up and wraping behind it. It has a tail, and looks like it once had missiles that where mounted on its arms. There was a symbole on its chest, I think on the "V" that was like an hourclass or close to it. It also has several red "wires" on its arms and legs.
Somewhat of a cross between
this
and
this
, but with a big V thing on its chest and huge black clawed hands, and a tail....possibly has wings but I can't remember.
I hope this is enough for someone to maybe ID it...
**edit** ok here's a sketch of it I did from memory, so it might be a little off or missing something. I forgot one arm had a shield like thing on it, and the other arm had a slot where "something" was attached, maybe a similar shield.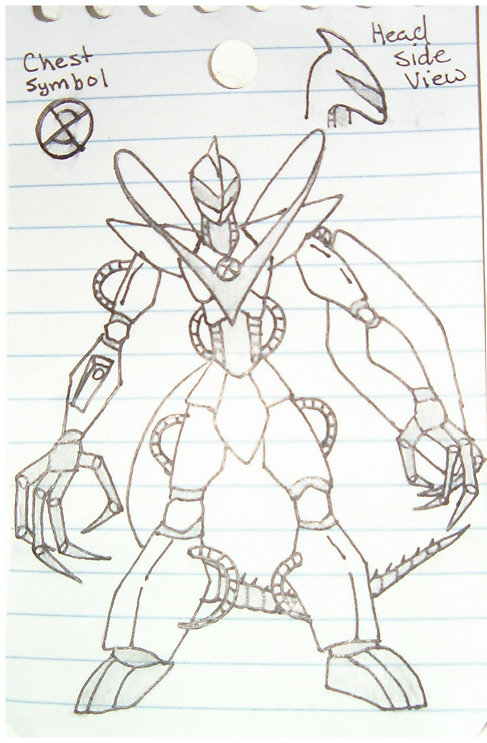 Attachment:
UknownMecha.png [630.63 KiB]
Not downloaded yet
_________________

Silent as night, silent as death, silent as your last breath
My Pokemon, clicky


I accept Pokemon Battles!! FC's on My profile page!
Want a pkmn/LV/held item?/shiny? pm me (AR/PG used) temp out of service
My DeviantART/My Petopia art thread
I cry inside every day, as common courtesy withers away. Are you part of the problem or will you help it grow?