You can keep your fancy "turtles" and "beetles"! You can even keep your streamlined alligator-like 'Cata-crocs'. None can surpass the tenacity (pun very intended) of good ol' Richard!
"I like naming my pets human names. Throws the Alliance off a little." He laughs as he pets his crocolisk's smooth green scales, hearing his satisfied hiss-like roar.
Technically, he was my third pet I tamed (the first being Steve, and the second being a bright brown bear named Murray which I promptly gave up just before BC). Tamed him off the coast of Grom'gol, this brighter green croc has and always will contend with Steve for being my favorite pet(s), even with my stables filling up more! He was my go-to tank, unstoppable in many ways!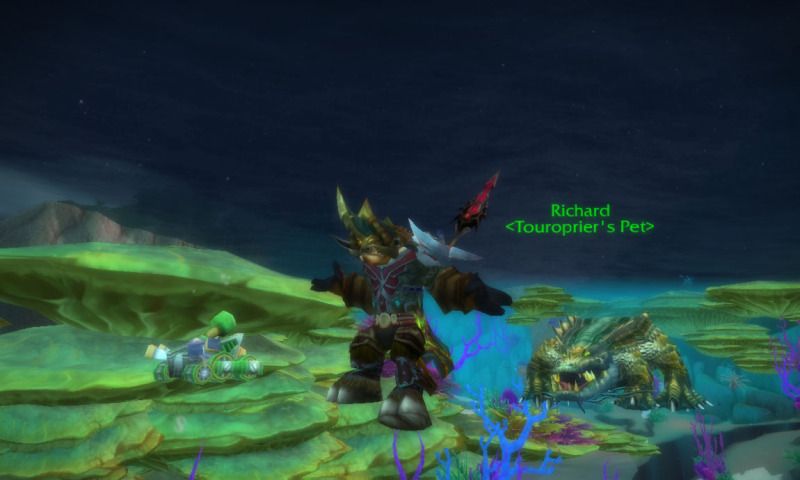 And I knew I picked up a winner with this pet, because:
1) Some people see his name and they're like "I like your pet's name!" or "That's weird, because that's MY name, too!"
2) My little sister heard him 'roar' for the first time when we were just standing still, and she was all giddy and like "OMG! He
roared!
Ahahaha~"
3) He's my most reliable tank! In some separate instances, I remember when the tank got one-shotted at a last boss, I dismissed one of my DPS pets/Steve, and summoned Richard, and he taunted the boss enough so that the dps could finish him off quickly, even at the cost of his own life. Daddy's little trooper!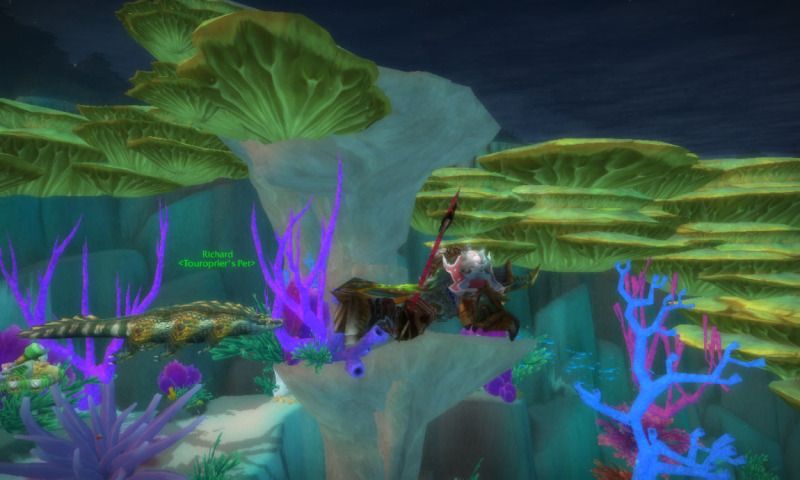 And I've had him through all the changes crocolisks received. I loved him when he had NOTHING in vanilla, I loved and utilized the CRAP out of him when crocolisks had "Bad Attitude" (pet thorns are always delicious) and I pulled packs with him when I farmed old dungeons with that, Misdirection, and Multishot! And I honestly have no qualms against "Ankle Crack", it just means he's also handy in PvP now, too. Though, having Taunt and Last Stand certainly makes Richard my handy little back-up tank in case any real tank I go up with gets one-shotted! Sometimes, I bring Richard out deliberately just to troll my current LFG heroic tank, and compete with him.

But will I turn him into a Ferocity pet when MoP comes out? Hard to say.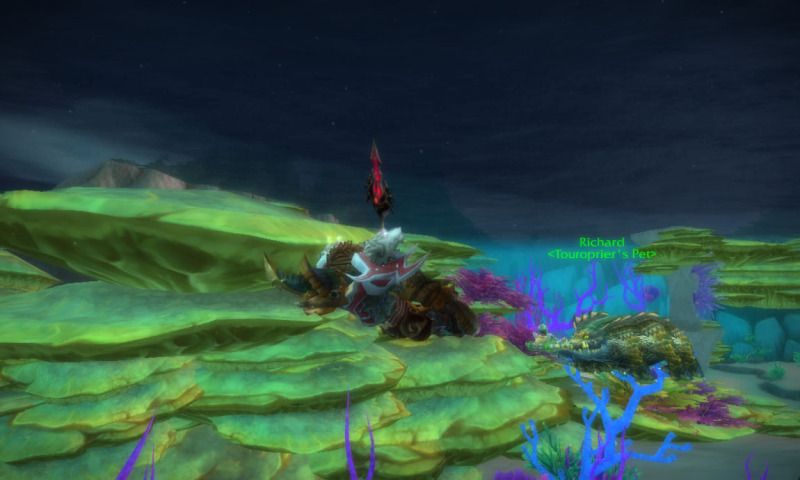 And, since I tamed him from Grom'gol, him being a saltwater crocolisk, he was THRILLED to be in Vashj'ir. Steve can swim like a duck, but Richard LOVES coming with me to Vashj'ir to farm Stormvine and Azshara's Veil, munching on the occasional sea creature/naga too. Needless to say, my hunter just isn't my hunter without my little bright green crocolisk. <3