Red Madexx, you beautiful scarlet Scorpid you, you're finally home!
Okay, so I have to admit, I was never one for the Scorpid models until the armoured variety came into the game. I loved the look of them, and I especially fell in love with the elusive colour changing Madexx, found in and around the northern wastes of Uldum. Over time, I had run into every other colour, except red, dead and killed by another player. I rather like the bronze/brown reincarnation, but the red just held something for me. I found myself wanting him more and more, and started to camp the area he's found in. I grew frustrated, and started to spend more time leveling alts instead, abandoning the search for Red Madexx as school started up again.
Yesterday morning, I was leveling a small Mage alt for a guild achievement (Classy Trolls indeed!) when fellow Petopian Aary announced that Red Madexx was up! I asked her to hold it for me while I switched to Aritria, logged back on, transported to Uldum, and tamed this crimson beauty. Everyone, meet the newest member of the Creature Clan, Selkhet!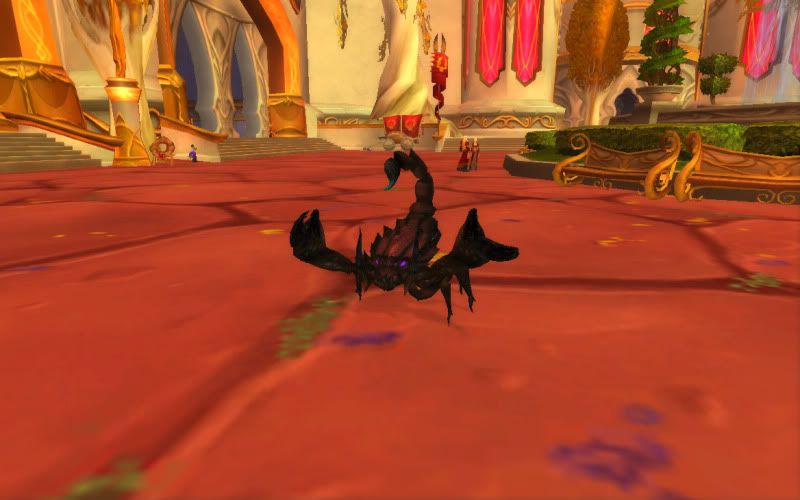 Selket (alternatively Selqet, or more commonly known as Selkis) is the Ancient Egyptian goddess of scorpions and other venomous creatures found in the animal kingdom, so I knew it was the perfect name for a red armoured scorpion. I have yet to take her on a bonding run, but I'm loving the idle animations, and the lavender eyes are the icing on the cake to a beautiful pet model with subtle mottling on the skin.
A huge thank you to fellow Petopians Aarynthalia (on her hunter Olyssa) and Jelaniana for keeping Madexx safe. You guys rock!
_________________
Aritria's Adventures in Azeroth or Otherwise
"A bird doesn't sing because it has an answer, it sings because it has a song." - Lou Holtz



Sigs by the beautiful, talented Serenith, Kurenio, and Nili. Rock on, guys!
Avatars by Serenith, Sarah of Soaked, and other avatar artists.

The Pride of Nesingwary
Aritria, the Mother
Killasandra, the Daughter | Alessira, the Sister Adopted | Filomena, the Lover