I finally figured out how to get Mogit to work, which is not good for me and my transmorg-outfit-making obsession. Here are some sets I made up

*Edit* I just wanted to point out that I almost never have boots that show on dreanei, so I didn't look for any with these sets.
Here's the first one I attempted. I have never seen this chest before, and it comes with matching gloves, so I thought I'd try it out. The colors are so striking and unusual, which ended up being a problem (hence the lack of pants). I couldn't find anything that matched! So for now it remains like this.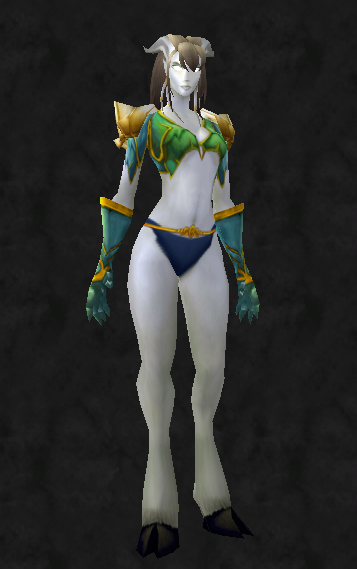 Then I saw the same style chest in a reddish brown/green and decided to try that instead. I normally stay away from red with my Draenei, but I love how this looks. Most brown sets don't have enough "umph" to them for my taste, but the red makes this one stand out. The first two images are showing off what I currently have equipped, the third pictures the shoulders I would rather have but will probably never get, and the final image has the bow I'm watching the AH for. The stingray one is great because of the red glow, but the rest of the bow is a little off compared to the set. And I tend to prefer simpler bows :]
I got this chest piece in a random Hyjal run, and it is too pretty to not make a set with. I'm normally not a fan of kilts on hunters (what could be harder to move around in when trying to hit someone with an arrow?), but this is so elegant I'll probably end up gathering the few pieces I don't already have. The raid finder bow and polearm go wonderfully because they both have the blue glow. And the polearm hides enchants that would otherwise ruin this. The first image has the ideal gloves equipped, but they are a little more difficult to get than the Talhide ones in the last one. The second and third screenshot are just to show off the weapons :]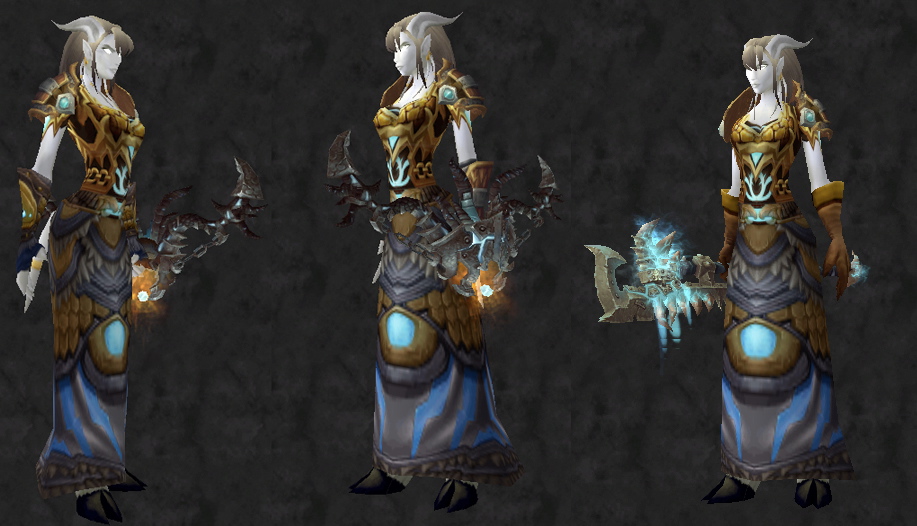 My name is Kempera, and I am addicted to Mogit.