Here comes another Terrorpene story!

I originally had no plans to tame the new turtle model when it was first datamined. Both the anicent and fire models were gorgeous, but turtles had never been a pet that clicked with me, at least not on Veph.
I was in the Cataclysm beta, and at some point I decided to scout out Terrorpene and see him in person. When I eventually found him spawned, I tamed him and...he completely won me over. I went from being indifferent towards him to completely falling in love with the model. He had so much personality, all gruff and grumpy and endearing. All throughout the beta I grew more and more attached.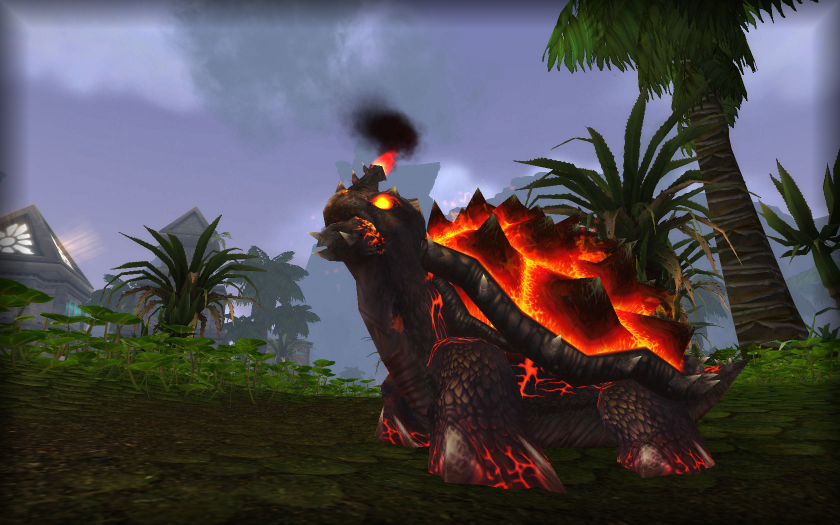 By the time Cataclysm was released officially, I planned to hit 81 as soon as humanly possible and tame him straight away (my hope was to catch his first spawn). Of course things didn't go exactly as planned. I did reach 81 in record timing on the midnight release date, and proceeded to camp until well into the afternoon of the next day until I was too tired to go on and passed out. I had been awake for over 24 hours. I ended up missing his spawn by a couple hours if I recall correctly. I was a little crestfallen, but not about to give up hope.
After getting some sleep that day, I woke up and resumed the camp. It was another long stakeout and around 4am I feared I was not going to have any luck again when BAM, NPC Scan blares at me. He had spawned practically on top of me!
I went through the usual state of shock for the first few seconds, forgetting what I was supposed to do. I had read up on solo-taming strategies since he was no pushover. I was fully prepared with all sorts of buffs, haste, and a disposable core hound for Ancient Hysteria. I pulled everything I had and...he completely wiped the floor with me.
It was a horrible feeling to realize that I just wasn't going to be able to do this tame by myself. I was panicking by that point fearing someone else was going to come grab him. Kalli saved the day though by logging into her shaman and coming to help. With her totems and heals I managed to tame him, and it was one of the greatest tames I've had to date.

Igneous was born that day, or Iggy as I tend to call him, and he's still my dominant tanking pet who I always use for any sort of solo challenge.