At the current time I won't be playing come MoP. I've canceled my WoW account in preparation for TERA... but.. if I were to come back at some time or even play on a 7-day free thing...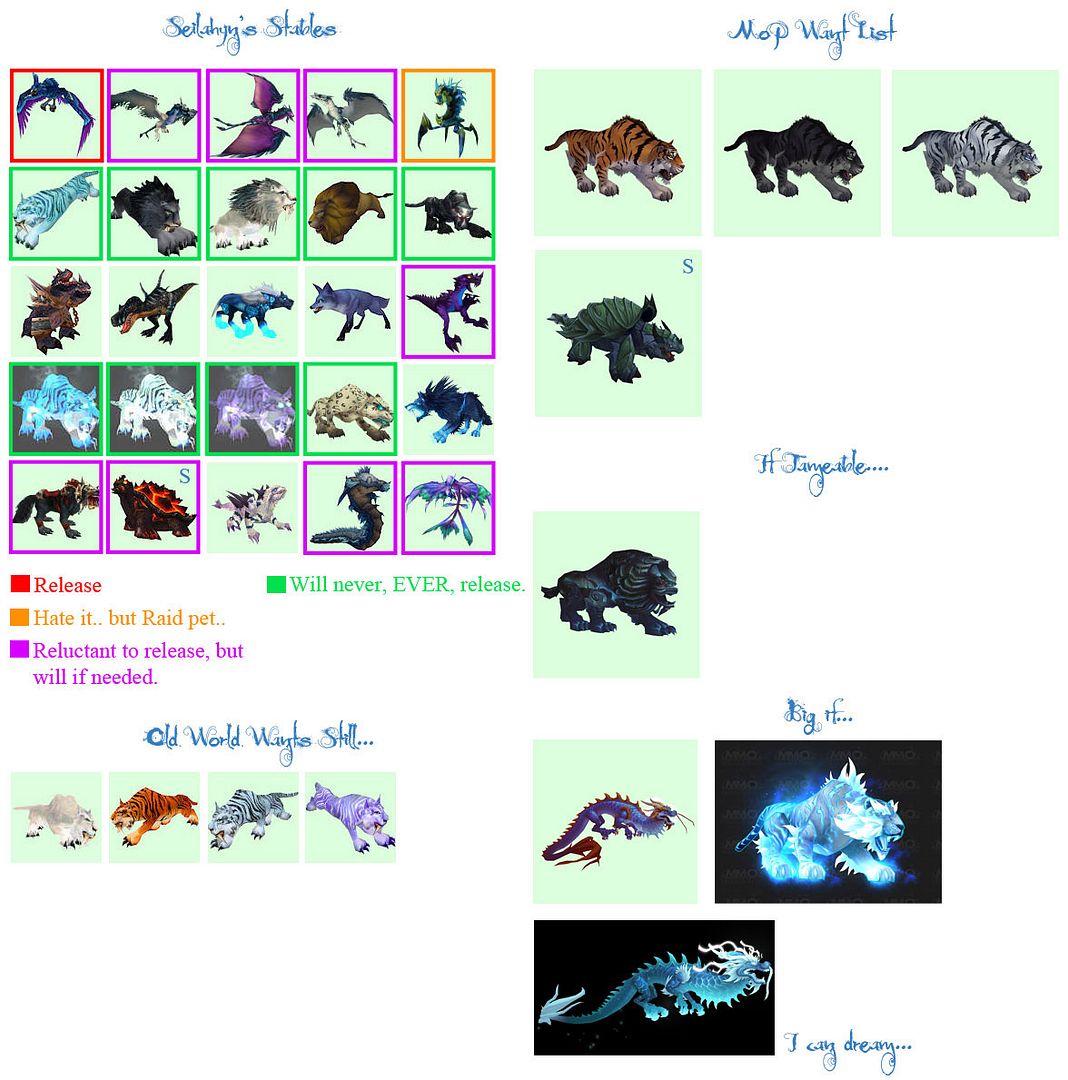 My problem is I only tame pets I like/want, so when it comes to having to get rid of pets for new ones.. it's hard to decide. I would LOVE to get rid of the ravager as I really hate them, but unfortunately it's a very commonly used raid pet. Aotona and I never clicked. I love the coloring, I like birds, but just don't care for the parrot model and just couldn't get attached to it. I've been debating releasing him for a while now but never got around to it.
The old world list are cats I still would like to add to my collection, but due to space limits, I couldn't bring myself to tame more cats. Loque and Humar will NEVER go anywhere. Humar was my first camp/rare tame and even if he looks like crap compared to the new models, he's mine. Loque I dedicated so much time to camping back when he first came out and I loved him so much, I could never release him no matter how goofy he looks. I just can't even "update" them with new models. It's just not the same, even if I give them the same name. While the other cats don't have that big of a meaning as my first two, I would never get rid of them.
The ones that are unmarked were ones I wasn't sure what to do with. I don't want to release them, but they aren't on the level of my cats.
The new cats are just beautiful. I'm a little upset they didn't fix the chest issue with the model though. It's not as bad as it is on Sambas, but it does collapse in on itself still. It just looks very painful.
While I don't want to replace a pet, if I do tame the new turtle I'd most likely replace Terrorpene. He was more of a whim tame because I didn't have a turtle and he was cool looking. I'd much rather have a blue turtle.
I highly doubt the cloud serpents will be tameable, but I threw them on there just because. I am really hoping that the tiger god will have some sort of tameable equivalent like Loque.
While I did wish for guardian dog/lions in the old wish thread, I'm not crazy about them as they remind me waaaay too much of pugs and I hate pugs. The pushed in face just bugs me. I'm a cat lover and I don't even like persians because of it. I would, however, like the blue stone Qilin as I don't really like any of the non-stone skins.
_________________

Seilahyn - Draenei BM Hunter ~ Xalyndrie - Worgen BM Hunter ~ Maoli - Pandaren BM Hunter
Lunakhovina - Resto Shaman ~ Vheaira - Feral Druid ~ Nireldia - Prot Paladin ~ Wintryth - Demo Warlock
Need help with Hunter stuff or tames? Add me: Seilahyn#1514