Sorry about the delay - sleeping was absolutely necessary for Caelan and me after watching Bombyx for hours and determining that he's pretty much unmappable.
Yup. Unmappable.
Bombyx takes pretty much every tracking mechanic we've seen and kicks it up to 11. His pathing is erratic, to say the least. He twists and turns. He doubles and triples back over the same ground, sometimes with small differences. He makes sharp turns without leaving any tracks or indication that he's done so. Worst of all, he will stop randomly and sit still for varying amounts of time, making flaring him more difficult than any other rare.
On top of all this, his tracks are Heavily-Chewed Silkweed.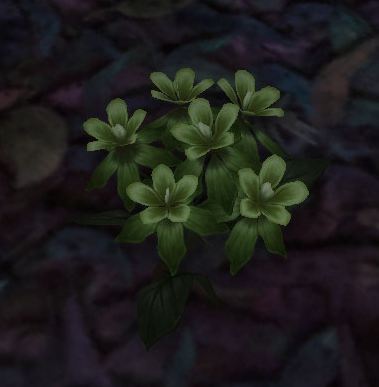 That's right, his tracks do not indicate which direction he's walking in. Not only that, but there are many silkweed nodes in the area, which makes tracking even more difficult. The chewed silkweed is just a tiny version of silkweed to begin with and it blends in well with the landscape. Due to Bombyx's completely random pathing, you can often find a single track or as many as....well, I logged in to see 17 clumped up near each other just now.
Yup.
There is so much guesswork involved with even flaring him out that a guide to his tracks will only get you to his general area....where the real fun begins!
He's level 90, so if you're up for the most challenging tracking tame of them all, you'd better hit the level cap prior to 5.1. On the plus side, he doesn't seem to be impacted by phasing issues, since I haven't really touched Krasarang Wilds.
I'll get a map up soon; I'm getting a video prepared as well.
For anyone who's complained that the tracking tames aren't challenging....well....they haven't met Bombyx.

_________________

Kalliope's Pantheon of Pets
YouTube Edition
Thanks to Serenith for the avatar and signature!