UPDATED WITH INFO FROM POSTERS BELOW. THANKS!!
Now that The Nighthold raid has opened its doors (though not for LFR, yet!), we believe that eight new mounts are available.
See our Patch 7.1.5 page for more info :
http://warcraftmounts.com/legion715.php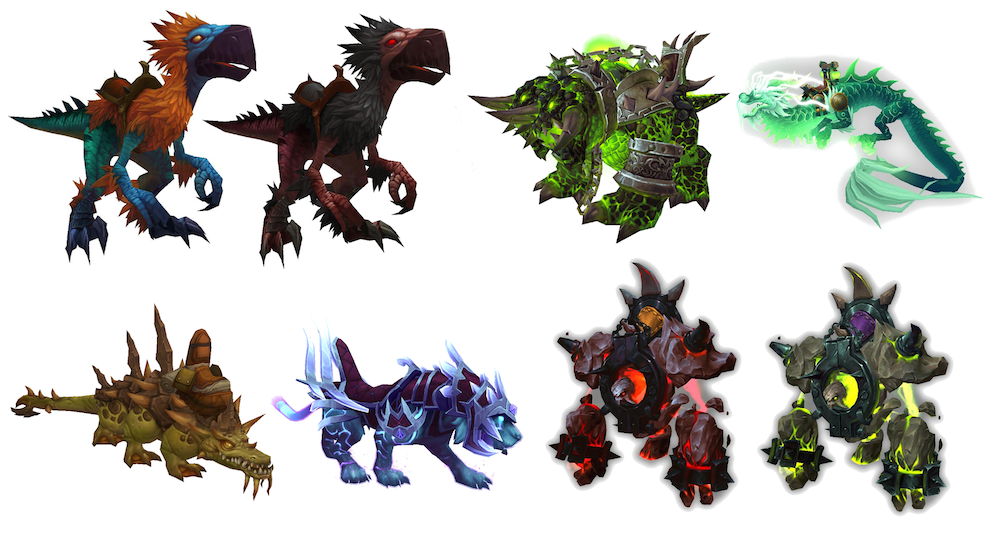 - two falcosaurs, the
Brilliant Direbeak
(orange-turquoise) and
Predatory Bloodgazer
(black-red) are awarded at the culmination of quest chains from their related falcosaur hatchling minipets. The other falcosaur mounts were already available but these two required the defeat of bosses in The Nighthold.
- the
Arcanist's Manasaber
is available via a quest from Khadgar, Fate of the Nightborne, after defeating Gul'dan in The Nighthold, but only if you have already completed the Insurrection quest chain and picked up the extra quest, The Nighthold: Lord of the Shadow Council from Khadgar.
- Two infernal mounts drop from the final boss of The Nighthold, Gul'dan, on different difficulties. The red
Hellfire Infernal
is a 100% drop chance on Mythic difficulty, and the fel-coloured
Felblaze Infernal
is a rare drop in regular and heroic modes.
- The
Steelbound Devourer
is a fel-green core hound mount crafted by Blacksmithing. The plans drop from Tichondrius in The Nighthold in at least regular mode and above, but aren't a guaranteed drop.
Please let us know if you come across more info! Thanks

_________________
Shaman avatar by Spiritbinder.