Mozag: So so happy to see you back! It's always such a treat to see your gorgeous lair. Necrosis looks amazing with her glowing eyes, and wow, Sepsis is a stunner- you do simple outfits very well. And Victor looks great! Usually my eyes HATE conflicting blacks, but I think his color range actually works together really well. I'm sorry Scourge didn't get his multi-gaze, but Faceted really shines on spirals- he looks freaky and wonderful.
Tarn: All your beautiful plague dragons bring me so much joy! Loving all your hatchlings. Hagrim, Lorna and Found look really gorgeous even without the eyes you wanted. Thor and Sif always have such fun hatchlings, even the pink belly ones! And wow, Mars looks so good +_+ The Luke/Lorelei kids are great too, though I wish you better luck with Firefly.
Iceflight: Sending lots of hugs in hopes you start feeling better <3 Thank you so much for continuing to post dragons every day!
SammyB: Lovely hatchlings, I really love that purple imp!
Makoes: Old genes are a lot of fun to see sometimes, your blue imps are super cute!
Dewclaw: Lovely dragons, that mafia Skydancer looks great. It's a lot of fun to see what people do with Mafia dragons! That black bogsneak looks fabulous with his green feet.
Kirrandria: Lovely little pearlcatchers, they remind me of coral reef fish +_+ Your lore guardians are REALLY cool, and I love how you worked their eye tints into their story- that's such a good idea. And your birthday ID pearlcatcher looks gorgeous!
Tyger: Taking care of a new child sounds super exhausting, I hope you start getting rest soon x.x Your dragons are super cute, I love the patchy Paint fae! I absolutely love Fireball/Dot's kids, they're so much fun.
Rawr: Wow, primal eyes are at a roughly .7% chance of showing up, you've gotten way lucky! Great bogsneaks!
Bullet: Cute babies, and cute G1s!! The pistachio wings on that chocolate tundra are SO cute.
------------
Hatchling boom tomorrow, so for now, here are all the rare eyes I scattered and like! I've got a few more that I'm considering throwing on Byzantine once she gets off a nest, but for now, Curse got Unusual eyes. I wasn't sure what I wanted for him, but the brightness of Unusual really plays nicely with his necklace, so they're staying!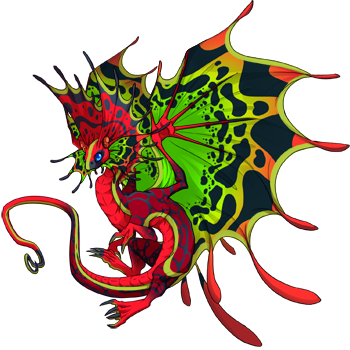 Lackjaw and Auric both got Earth Rare, which is exactly what I wanted for them both. I love how dark and muddy they get- it fits Lackjaw's colors perfectly, and as Auric is kind of a nasty corrupted boy, I like how his facade of gold is betrayed by dark, desaturated eyes.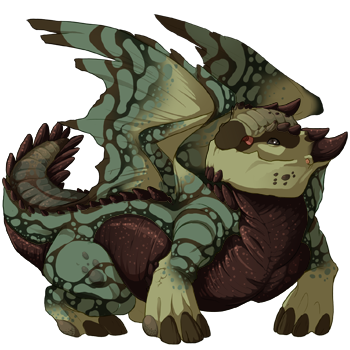 _________________
Tumblr ~ Flight Rising
Signature by Crookfish, thank you so much!