FigurePrints
is a company that will create a custom 3D model of your WoW character.
They also sell
FigurePets
, 3D models of non-combat mini-pets.
I've been waiting and hoping that they open up the possibility of getting a 3D model of a combat pet (with or without the hunter!) but so far that hasn't happened.
However, for the first time they are offering a FigurePet model that looks reasonably like a hunter pet: the Deviate Hatchling in Series 3. It's actually the big-headed purple raptor mini-pet, but if you don't mind the baby-ish look, you can pretend that it's a
Deviate Creeper
or a
Deviate Ravager
.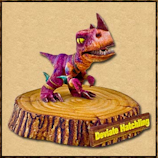 The price is $29.95 or 24,95 €. But if you are considering getting a FigurePet, I'd urge you to get there via the
Warcraft Pets page
. (I'm not entirely certain that Warcraft Pets is an affiliate as such, but it doesn't hurt to try. And I like to support the other independent WoW sites whenever I can.)