Hey everyone, I wanted to come on the forums and share my Power Auras setup, because while this addon is totally awesome, it can be a little tricky to set up! For those who aren't familiar with Power Auras Classic, it's an addon that you can configure to track anything about your character and displays an icon when certain conditions that you set are met. For example: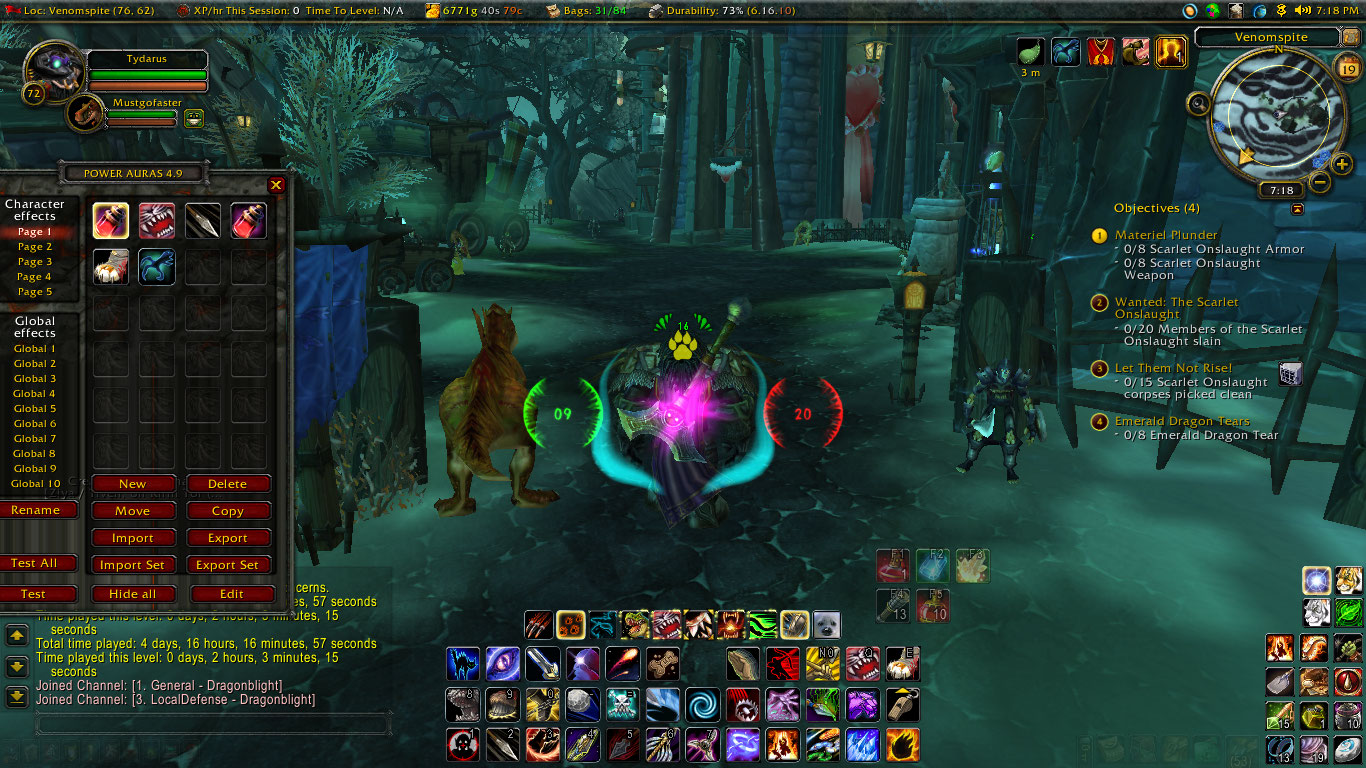 These are the current auras I have set up:
The green timer to my left keeps track of Serpent Sting, letting me know how much time is left until it falls off.
The red timer on the right tracks Bestial Wrath, letting me know how many seconds I have left.
The blue brackets appear and pulse when I am not in an aspect.
The purple flare appears when my health drops below 30%, and I also hear the raid warning sound effect.
The yellow paw print above my head goes off when my pet's health drops below 60%, this also comes with a raid warning sound.
Finally, the green timer above my head tracks Mend Pet and how many seconds are left until it drops off.
The great thing about Power Auras Classic is that it can track anything - when you reach a certain Focus threshold, when your trinket's cooldown is up, when you don't have a certain buff, whatever. I love it because it helps me keep track of a lot of things, and it's so customizable. I have many of these same auras on my rogue, keeping track of Slice and Dice, Rupture, and my poisons.
So in the box below is a code string that you can import into your own Power Auras. Just copy this code, click the button on PA that says "Import Set", and hit Ctrl + V to paste it in. Oh, and download Power Auras Classic
here
. Enjoy!
Code: Select all
Set=Page 1@
Aura[1]=Version:4.9; b:0.9373; anim1:4; g:0.0784; icon:inv_alchemy_elixir_05; bufftype:8; texture:22; alpha:1; sound:11; threshold:30@
Aura[2]=Version:4.9; b:0; g:0.0118; icon:Ability_Druid_FerociousBite; buffname:Bestial Wrath; x:120; unitn:Pet; texture:6; alpha:1; size:0.35; optunitn:true; timer.enabled:true; timer.cents:false; timer.y:-30; timer.x:120@
Aura[3]=Version:4.9; b:0; target:true; icon:Ability_Hunter_Quickshot; buffname:Serpent Sting; r:0.0706; x:-120; bufftype:2; texture:6; alpha:1; mine:true; combat:true; size:0.35; timer.enabled:true; timer.cents:false; timer.y:-30; timer.x:-120@
Aura[4]=Version:4.9; b:0; anim1:2; icon:inv_alchemy_elixir_05; unitn:Pet; bufftype:8; texture:29; alpha:1; isResting:0; inVehicle:0; sound:11; threshold:60; size:0.15; optunitn:true; y:40; texmode:2; ismounted:0@
Aura[5]=Version:4.9; b:0; anim1:2; icon:Ability_Hunter_MendPet; buffname:Mend Pet; r:0; begin:2; unitn:Pet; texture:33; alpha:1; isResting:0; mine:true; inVehicle:0; size:0.28; optunitn:true; y:40; texmode:2; ismounted:0; timer.h:0.7; timer.Texture:Monofonto; timer.enabled:true; timer.cents:false; timer.y:58; timer.Transparent:true@
Aura[6]=Version:4.9; anim1:4; g:0.9882; icon:Spell_Nature_RavenForm; buffname:Aspect; r:0; texture:24; isResting:0; inverse:true@