Sigrah

Artisan Hunter

Posts: 688
Joined: Sat Jan 09, 2010 5:35 am
Realm: Area 52
Gender: Male
Location: Lost in the Twilight Zone
Contact:
Simple but nice, just a list of all my characters at the moment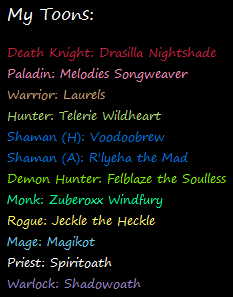 Attachments

Signature Character List Small 1.png (13.82 KiB) Viewed 950 times
---
 Community Resource

Posts: 14480
Joined: Wed Sep 15, 2010 10:15 pm
Realm: Staghelm (Alliance), Wyrmrest Accord (Horde)
Gender: Female playing both genders
Location: WoW
I feel like this belongs here:
http://forums.wow-petopia.com/viewtopic.php?f=18&t=18
since you're not requesting a sig be made.

Follow me on Tumblr! @projectashley
Like Crochet? You can see what I make @ facebook.com/AshedCreations
Lord Godfrey wrote:Some people only want to watch the world burn. Others want to be the ones responsible for burning it...
[/center]
---