Treat others as you would be treated:

Remember that behind all of these toons sits a real person, just like you. Respect that. Remember that this is a game that we all play to have fun, burn off stress, etc. If someone asks you to stop an action, change a topic, stop a certain joke, please do it. Be respectful to other players, and basically treat them as you would want to be treated. This goes for people both in and out of the guild.


Guild Chat Guidelines:

Simply put, keep things PG-13 unless it's during "late night chat". "Late night" usually starts around 10-11pm server, and is usually noted by someone *hanging the late night sign*.

Late Night chat isn't a free for all, though. Rated R topics are allowed, however, we must still respect the other people in the guild and stop or redirect when asked.

Some topics are NEVER ok in guild chat. Period. Politics, religion, hate speech, abuse, rape and "being creepy" are the main ones. The general guideline to this is: if it's a volatile subject, take it to party or whispers before you are told to do so.

Being happy and celebrating a rare tame, an epic drop, etc is great! We're all happy with you! Just remember that there is a fine line between being happy about something and coming off as bragging about it and rubbing it in peoples' faces. You most likely don't mean it to come off this way, but...sometimes it happens.

One other thing to note is: Never post any personal identifying information in guild chat. First names are fine, general area in which you live is ok. Don't give out your e-mail, address, etc. in guild chat.


Rare taming:

Lowbie rares have a fairly quick spawn. They also have lots of tasty tasty XP. If you come across a tameable lowbie rare, offer it up, first. If no one wants it, get your XP.

Higher-level, long-spawn-time rares, however, offer to the guild first, then to other hunters in the zone that may be camping. If you can't home it, have actually tried, and need it for an achieve, then >.< go ahead.

If 2 Petopians are camping a rare, the person at the site first has claim to the tame. This only counts as long as the toon is logged in and not called away (pvp, dungeon, summon, hearth, etc). Leaving the spawn point negates any claim you have at that time.

If a Petopian and a non-Petopian are both camping a rare, be respecful. You can challenge the claim, try to tame it, etc, however, it is never acceptable to harass another camper or to kill a rare so that another person cannot tame it.

It is NOT, I repeat NOT funny to announce that "rare spawn X" has spawned, when it in fact hasn't. Please also remember that others may be camping rares, and be respectful and try to not pull out your Kirix right on the spawn point, for example.


Guild runs/loot drops:

If a person is running in a dungeon, they are allowed to roll on any item that drops. They are doing the work, they are allowed the loot. The only exception is if a run is set up for a specific reason, or a specific drop for a specific person. If such rules are made, they MUST be clarified BEFORE the run starts.


Officers:

We are here to keep the calm going in the guild, we are here to help, we are here for the guild as a whole. Please please PLEASE let us know if something's going on that we can take care of, help with or answer. If an officer isn't on, send someone a PM here on the forums. Our forum names are in our notes, and if you can't remember who's who....most of us keep it simple, at least, and have our forum name the same as our main.
_________________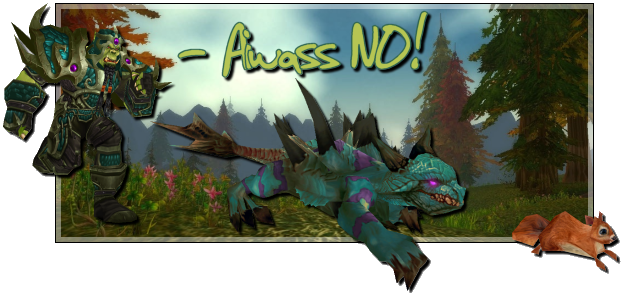 Thanks, Veph for the siggy!