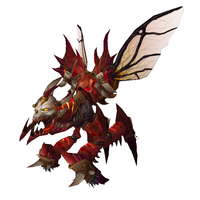 For this week only, 50% off the Grinning Reaver in the Blizzard Shop, both
US
and
EU
. Sale finishes at the end of 22 September.
Hopefully this will help some people working towards their 300-mount achievement, as well as anyone who has always wanted it but has been light on funds.
Personally I've always loved this one. The way it flies is like a big fat bumblebee (- ignore the way the reaver taxi mounts fly in Gorgrond, for some reason they use the swimming animation instead of the flying one.)
_________________
Shaman avatar by Spiritbinder.