Iowawolf wrote:
I just recently got my Wolfhawk and am not really seeing these problems many are saying exist I do notice when it is flying the mouth moves like chewing gum as for the wing I see the armor on one leg is different than the armor on the other leg so am not seeing the broken wing.

Not saying they are not there if many are seeing them just I happen to be not one of them.
What's really strange is you're not alone. When the bug first happened, I saw it happening to other players (because they showed their screenshots) but when I looked at my mount, mine was totally fine. About 2 days later, I noticed my mounts suddenly had the problem and I saw it on every other Hunter I watched. But the other Hunter in my guild said that theirs looked totally fine at the exact same time. About a few days later, they began to see that their mount was doing it too now.
At first I thought "well, maybe I didn't notice it before", but with so many similar stories seeming to pop up, it seems like the bug doesn't affect everyone but eventually does? I'm not sure.
And I know you're not saying that they're not there, but I just wanted to add some more screenshots I took and edited.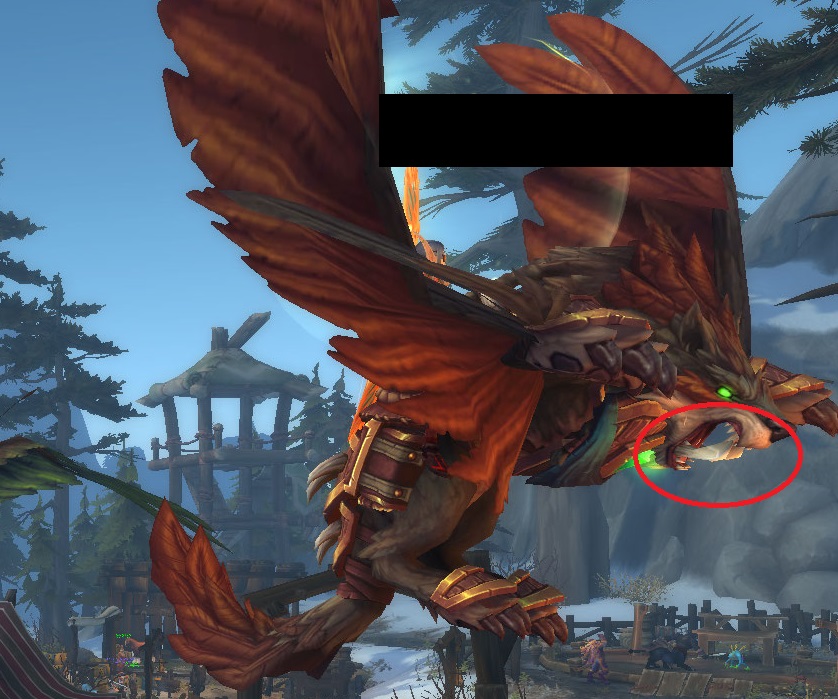 This isn't my Hunter, which is why I edited out the name and stuff. But I put a circle around the problem with the teeth. This seems to only happen once it's in flight. It seems like the bottom fangs become 'anchored' to the top fangs and actually stretch and skew as it moves.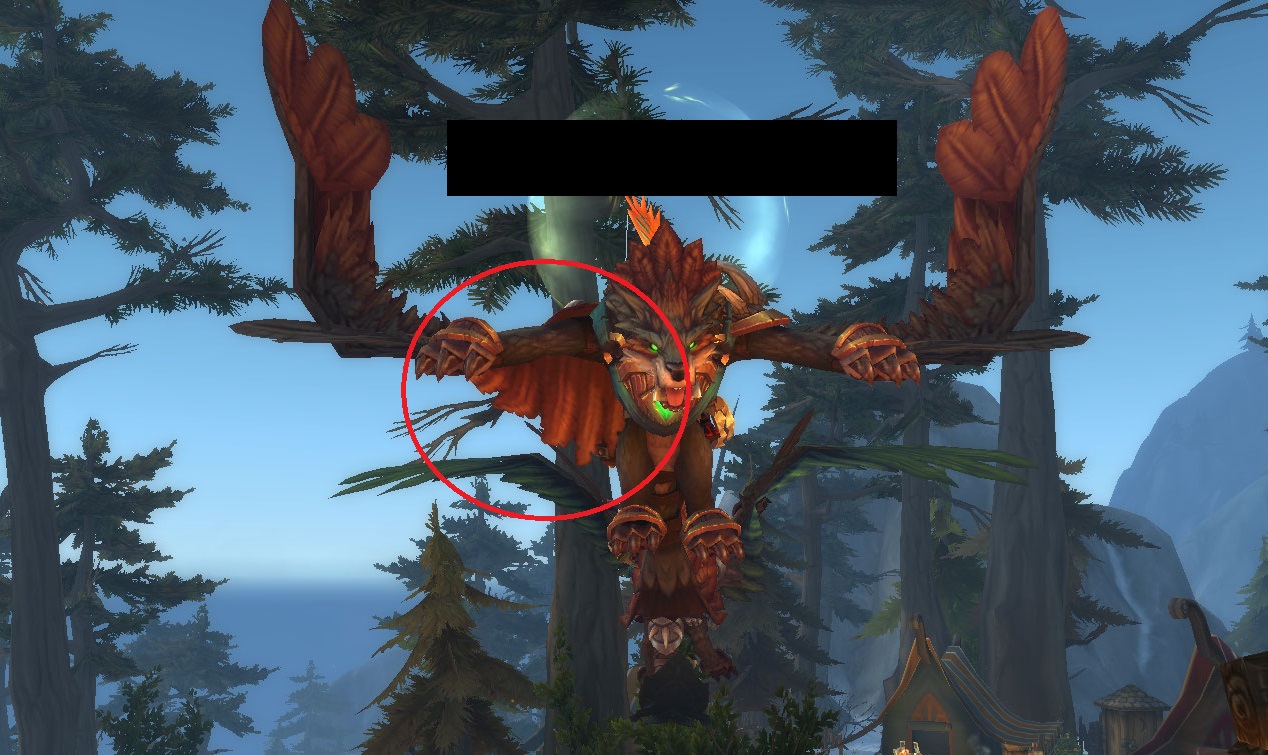 Same Hunter as above. Put a red circle around the chunk of the wing that is stuck permanently in a 'downward' motion instead of matching the other wing.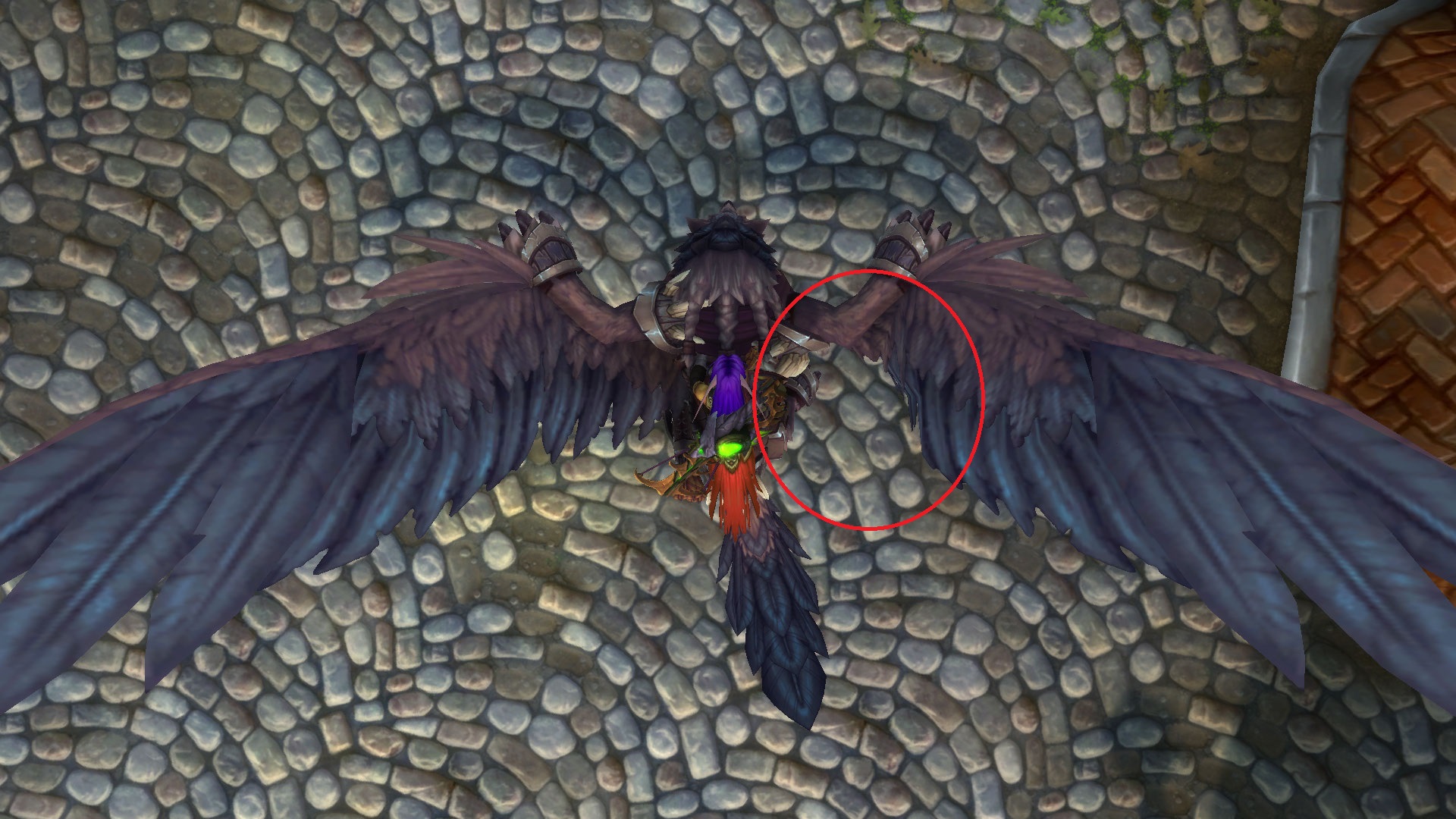 This one's my Hunter, and its a bit bigger picture. But it's just a top-view of the same bugged out chunk of wing. You can see where the wing and armor of the leg just seems to be permanently stuck in a downward motion/position.
So it's super weird, but you're definitely not alone. My guildie and I both started off as unaffected by the glitched mount issue and then became glitched at a different time. It makes me wonder if it only does it after the mount uses a certain animation and somehow the wing gets 'stuck' like that (like if it gets hit while you're riding or something). But it's super weird. It's also weird that the Wolfhawk Hunter pets seem unaffected by this from what I've seen. Both my wolfhawk and my guildie's pets don't share any of the problems the mount seems to suffer.