Shieldscar Does are tameable on the PTR (thanks Shem!), meaning the grey doe look is finally available to us. I'd take a screenshot but the PTR is unstable as frak right now - you only have to look at the screen the wrong way and it disconnects - but it's this one: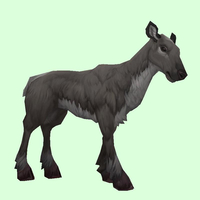 I checked Thunderhorn (yellow musken) but it's still untameable.
Checking other stuff now, in between DCs.